(review n pix by MWJ)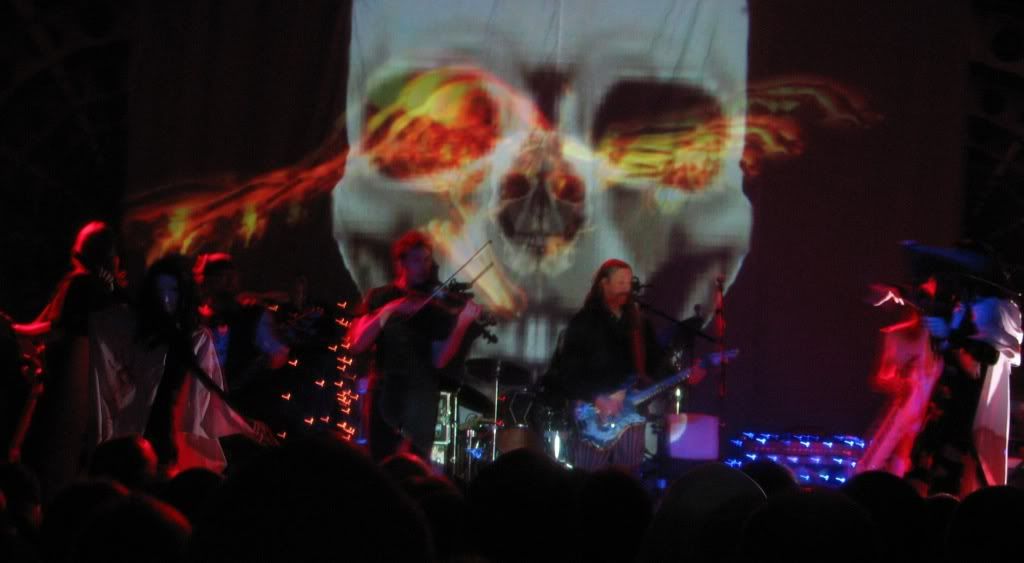 So, time travelling from circa 3000 years ago in Egypt to a band that is celebrating a mere 40 years on the road with what is apparently a regular Xmas excursion. My journey again veered via Wrexham to pick up He Of The Hippy Spirit Yet Retaining Great Anger (Paul). He'd only been to see them in Manchester the Friday before which had been my original plan but it had been sold out. After psyching myself up for that I was determined to grab this second opportunity for another band I'd never seen, and Paul was glad to see them yet again as he had many times before.
As Motorhead were my entry point to music addiction their space rock ancestry was well known to me (hilariously related in Lemmy's autobiography too), but perhaps daunted by a back catalogue that probably extends into quantum space as well as feeling that my direction lay onward/downward as opposed to backward I only possessed the "Warrior on the edge of time" album plus a scattering of the classic tracks. And while there were some nay-sayers when I announced my intent to see them I'd also heard many tales of the live madness that convinced me it would be one to remember whatever (though the chances seemed slight of Lemmy ascending through some trapdoor in the stage as had allegedly happened once previously)
It was similarly busy in Wolves and we were debating the risk of being clamped when the positive vibes obviously kicked in to provide us with a parking space. Once into the venue we again heard instantly heard the shout of "Fire" (as in "I am the god of hell fire and I bring you…") and the warbling keyboards which told us Arthur Brown was in action. Even though this was evidently the end of their set I was glad to catch this taste of mad psychedelia, as Paul said, continuing in the fine tradition of British eccentrics. Clad in his sparkly suit and face paints he had a chatty flight of fancy interlude in introducing his two equally bizarrely attired musical accomplices on stage (playing keyboards and drum machine/sampler) before they finished with a version of a track by The Animals, contemporary to his heyday I suppose, but it did also show that beneath all the weird posturing he had a very good voice.
So we got to a central place in the crowd/universe to better experience the sensory overload. When the intro started up combined with hypnotic projected backdrop for a moment I wondered if they were also pumping out a certain scent into the crowd via a smoke machine but in reality it was a massive wave of sparking up all the better to enhance the experience.(Does the smoking ban apply to narcotics?). Whether it was the passive effect or not, I didn't feel the need for anything additional as my head was getting sucked into the vortex quite well as it was. Next to the feast were two lady dancers clad as futuristic robots, they've obviously moved on from just having just the naked Stacia onstage though their attractive attention attracting element is undoubtedly still there.
The band join the ensemble too, almost not as the main focus rather as yet another layer to the tsunami to the senses that's building. Perhaps the only original left from a band that challenges Black Sabbath for personnel turnover, guitarist Dave Brock is almost in the background initially, though he shares the bulk of the vocals with newish bassist (and former roadie) Mr Dibs. I'm amused to see Dave still can have a look of surprise/bewilderment at all that's going on around him, but fair play he's also very focussed on the relentlessly driving riffs that create a wall of sound in the numbers from their set that appeal to me most. As one of their t-shirts said, "British Tribal Music and there's something to that they are tapping in to, musical ley lines maybe. They do drop down to more airy space rock at times, but the fact is there is so much going on either with the dancers in their various costumes (with or without stilts!) or the complex visual and light show (they know what works when it comes to headf*cking) that the sheer SPECTACLE of it all never lets up. Their current keyboardist is formerly of even more out-there mentalists Gong and he also fronts a couple of numbers, but I find these slightly less in sync with the rest of the sets flow, like maybe he was trying to hard. The drummer leads the fine rendition of Silver Machine, but whether the rest were new like "Proemetheus" from their last album or old is largely lost on me (though I recognise "Magnu") but as I am swirled away in the wonder of it all who cares? For their finale they play "Spirit of the Age" to a backdrop film of hippy riots against the police which is an interesting insight into changing perceptions of culture before they wind up with "Hassan-I-Sabha" with its repeated refrain of "Hashish", inspiring another collective sharp intake of sweet breath and leaving everyone with smiles on their faces, not there through entirely artificial/natural stimulus but through being thoroughly entertained by a great effort all round.