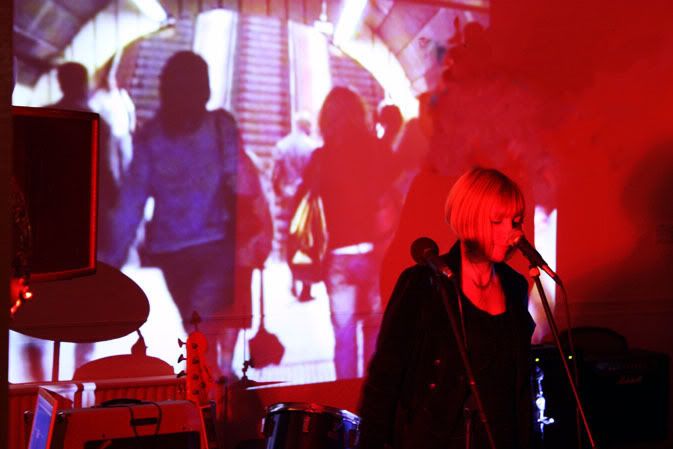 Tell me a better way to blow those Christmas cobwebs off than braving sub-zero temperatures to Menai Bridge for some off the wall moshing? No emo-bands with their pants hanging off their size zero arses, no fake American accents and hair carefully styled to look scruffy, and no empty spaces.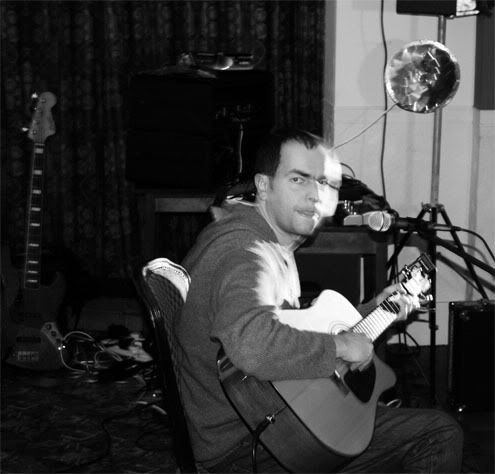 The well read Wrightoid (he's a librarian, pic above) first came to my attention in 2006 with an off-beatingly round the head catchy tune called Here Comes The Mort, a kind of weird backward acid laced tea bag that you supped and would occasionally get flash backs. By 2008 he resurfaced with some Earl Grey and a more traditional folked off sound, although with the occasional twist. My partner in crime Steve Sync, not renowned for tasting the subtler side of music was impressed, 'They're like Gary Numan meets The Frog Chorus, but in a good way.' With a stress relieving projected backdrop of a winter scene it reflected the tranquility of the songs, particularly the sublime Mae 'na Afon, unaffected by the dirt and filth that town kids will spurt out of their amps.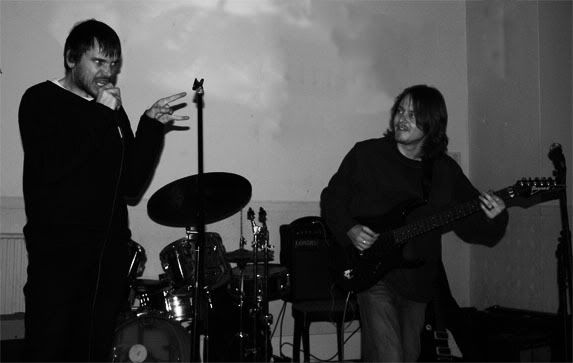 Back from the garden of England to the shrubbery of Wales, guitar exile Duncan Black (pic above with Jack Sharp) graces us with a stripped down set. He couldn't cart his Marshall stack on the train and could only carry seven of his 25 pedals – not that anyone would have noticed and he put on a show to shame Joe Satriani. Duncan is the Ed Alleyn Johnson of the guitar world, layering FX on FX to build up a one man symphony from Audio Sculpture, We Are Not Alone, Surfin' DOA, the brash Al Capone, a new tinkled as yet untitled track, and the crowd favourite Shitfist.
Some guitarists are guilty of over indulgence and Duncan is one of them, but what sets his set apart is that his over indulgence is crammed into 2, maybe three minute songs. They're short, sharp, yet full of complexities. Not long enough to let your attentions stray, which can only be a good thing. Local anti-hero Jack Sharp joined Duncan for a monumental rendition of the anti-X-Factor Halleluiah; bordering on the psychotic it was a performance of encapsulation – the perfect cameo front man.
Facefish prove that the water is different in Nant Ffrancon. With a fit inducing backdrop, over-echoed sixties garage vocals, a Nick Knox (Cramps) style drummer and the same riff for all their songs, they dealt up a dish of lo-fi Stooged up no nonsense rock and roll. It was simple and uncomplicated and that done properly works better than the opposite. This was done properly, particularly that track I'll Tell You Once.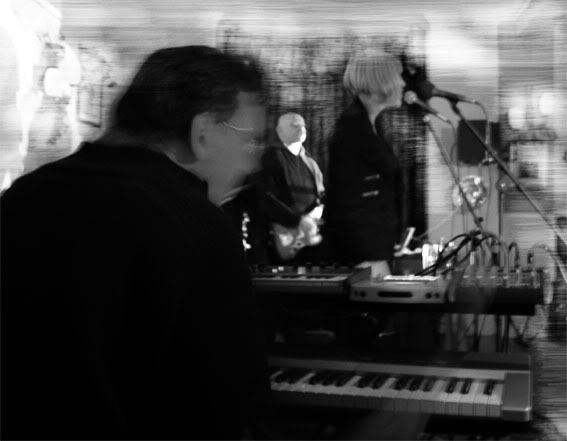 Parking Non-Stop (pic above & top pic) are another ensemble that Ectogram's Alan Holmes is involved in. Everything he has an input to always has an element of anti-music to it and PN-S are no exception. If you're looking for nice melodies you may be able to eek some out. If it's progressive chord changes then forget it; buy a Green Day album. Want something challenging? Invoking? Then dig down underground to an area inhabited by Bangor's heathen culture.
The toneless yet sweet voice of Zoe Skoulding with her array of children's toys, wine glass and bass guitar provide an eye pleasing front to the swirl of sounds around her. Sometimes nothing more than incidental noise, other times haunting tunes that gently build up before you realise you've been almost hypnotised by the sound that is all around you.
They call it avant garde I guess, but it had structure and I'll certainly be checking out the imminent Species Corridor LP out on Klangbad Records. Genius or just fucking barking? You decide… I began not really liking it, ended up loving it…
The graveyard shift was left to Martin Bramah's band Factory Star. He used to be in The Fall, but then again so have half the music community in Manchester. I never got The Fall, one or two songs were ok, but I guess you needed an acquired taste and it was one I never acquired. Thankfully Factory Star were nowhere near as challenging as Mr Smith's troops. Good down to earth indie-pop songs with a very strong distinctive vocal like a less husky Richard Hawley.
http://www.myspace.com/parkingnonstop
http://www.myspace.com/wrightoid
http://www.myspace.com/duncanblack
http://www.myspace.com/jacksharp
http://www.myspace.com/facefishmusic
http://www.myspace.com/martinbramah