(review n pix by neil crud)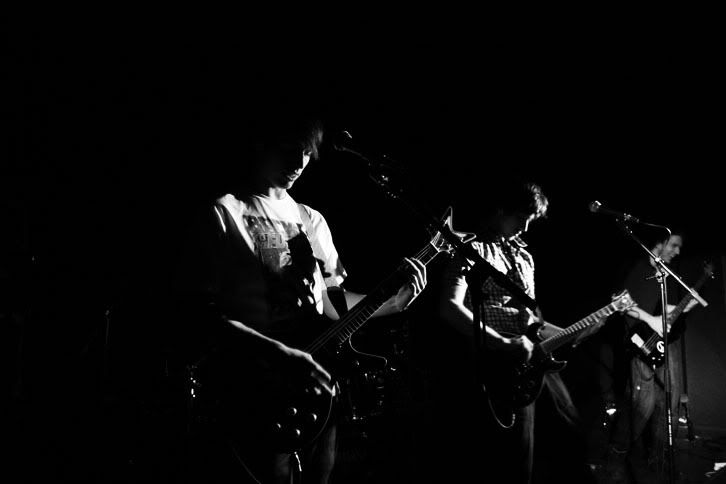 'Any guitar smashing has to be cleared with the management first' – that's what it said on the itinery for the bands. You can just imagine in the heat of the moment, the final song and the guitarist gets carried away, he takes off his guitar and the band stop; he asks over the mic if it's ok to smash his guitar, the management give a nod, the band carry on and the six-stringer is in smithereens.

Joking aside, Panic Promotions run a great set up, helping young bands and the scene in general with well organised gigs, Battle of The Bands, DeeCat Festival, practise rooms, PA hire etc.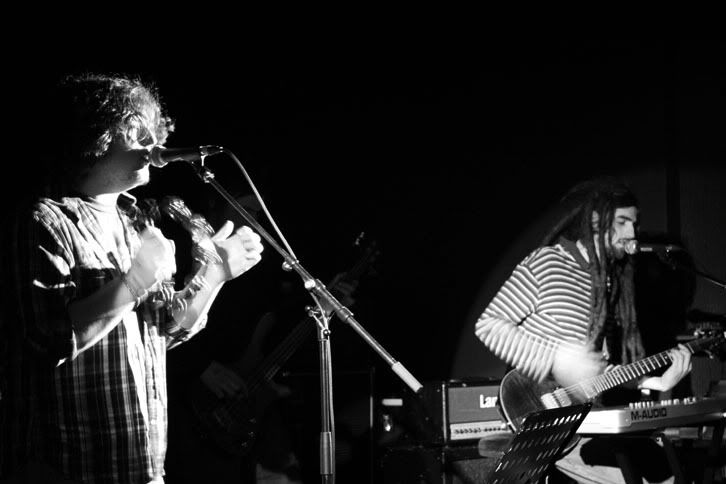 If you lived in your anorak and knew the bands playing then you would be thinking. Thyrd Eye and Calling Shotgun on the same bill? And who the hell are Good Syrs? (pic above)
Search me guv, but they're a Deeside based (Robbie) Keane-ish, rock-ish, indie-ish outfit who benefitted from the great sound this room and PA throws out. They also benefit from the Over 16 policy; if you're over 16 but under 18 you can come in but you can't get served.
This ensures a good crowd as most gig goers fall into that category, and perhaps it's a policy venues in Rhyl should look at, having effectively been forced by the council to kill off the music scene there.
Good Syrs strummed their way through a pleasant set of original material with the odd cover thrown in like Nirvana (albeit in a Crowded House stylee) and SFA's 'Don't Give A Fuck'. The song about windows was pretty decent too.
The Panic Promotion Package is designed to showcase rising talent and put them on a local stage so that locals can find out what's hype and what's hope. A freezing Thursday in
February does little to warm the cockles and the prospect of trudging through the sludge with a wind chill factor cold enough to give you frost bite is gonna have you in a quagmire of whether to go out or not. Most opted for the latter.
For those that were there, Chepstow's much travelled Thyrd Eye turned in a short set that left most people dazed and confused, I found them stimulating and occasionally stunning.
Hannah, the bassist (pic below), looks the part; brimming with confidence and for someone who only picked the instrument 4 years ago, knows how to make it play, while Matt (her brother), looked cool and commanding as always in black and standing 6'5″ tall.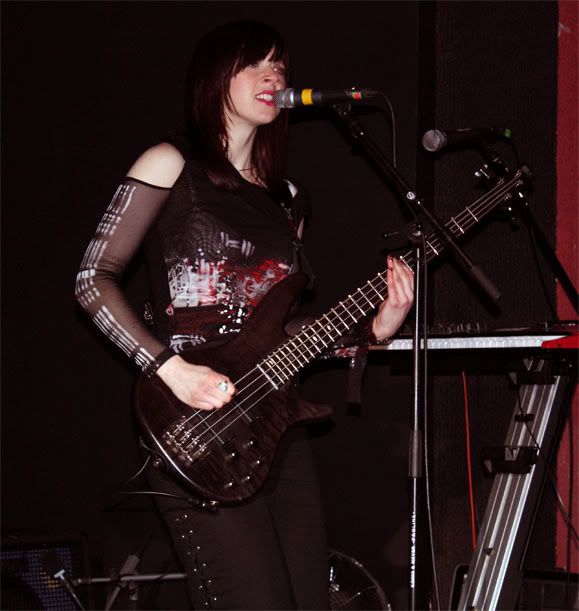 The music biz sucks – record labels, big time promoters, radio DJ's, journalists – the majority suck, or should I say, get their dicks sucked by bands willing to do anything to gain exposure.
Thyrd Eye's biggest issue is when they come up against the biz wanting to know 'what are you like'
'Err…'
There's silence, they can't really answer the question… 'We like The Cure, does that make us Goth?' But Thyrd Eye's music is so far removed from Robert Smith it'd make your lippo smear. The quest tonight is to find a genre for the two brothers and one sister that make up this trio (brother Gareth is an assured drummer with arms thicker than my thighs!).
They opened with a mellow sweetness that soon bit you on the neck with that familiar ferocity and a stuttering 4.5/4 time signature which must've been a bitch to master. The song then kicks off big time, fast and loud.
GENRE UPDATE: Prog-goth-punk.
Next up we're stopping, starting, stopping then ramming the song home with superb dynamics. Thyrd song in, I never got the tinkly opening on the demo, but it doesn't take long before it's compensated once again by the riffed up face against the wall chorus and then thrashes out getting faster and faster.
GENRE UPDATE: post-grunge-pop-hardcore.
The truly excellent Say Something follows up and within 3 more songs it's all over. You're not going to go home humming their tunes, but this very short set was so diverse, and sometimes too diverse for it's own good, but it tripped the light fantastic through the plains of genre defying hedonism into John Peel's territory for obscure American post-punk bands like Wing Tipped Sloat along with tinges of cranked up Wedding Present, better Cranberries to Kraut Rock and back again.
GENRE UPDATE: Fuck pigeonholes….
Calling Shotgun (main pic), the new local heroes opened to their smattering of fans with a good singalong punk feel, way beyond their young years. With a great young guitarist to boot (and he knew it), it was refreshing to hear this thrashed out stuff without a whining wanky emo-fied vocal, it was a gruff punk sound that fitted well with the music. It did however go down hill from then on in, you can't blame the band, they are so so young and still learning their trade, although there was not a lot wrong with the actual playing, just the choice of music.
Blink 182, Fightstar and Sum 41 obviously wield a huge influence on Calling Shotgun, but as usual, the inspirational outfits are substantially better than the created rip-offs, and someone should never let the aforementioned guitarist near a microphone again! Leave it to the other guy please!!
There was nothing groundbreaking but they do have a talent to work on, a base to build their groove and move away from the cliches, maybe a bit more of that Primus style slap bass, which was pretty darn good.
www.myspace.com/callingshotgunband