(review n pic by neil crud)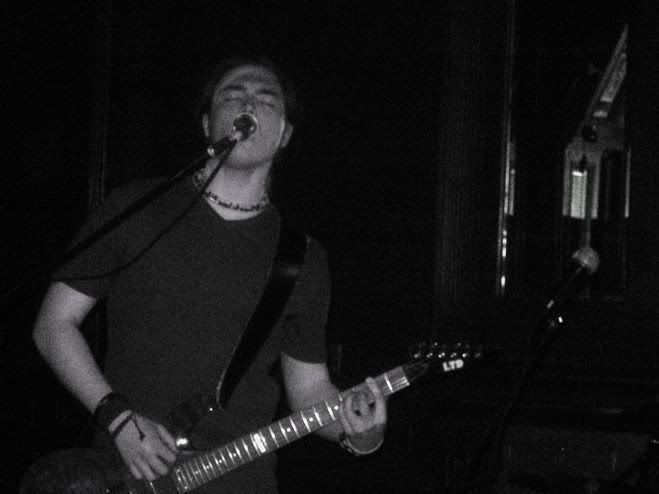 I very nearly didn't make this one alive, this was day 4 of a 4 day bender that began on Wednesday in the Grapevine in the company of The Stilletoes, then onto Chester the next night for a few scoops, then onto the Hammerfest last night. It was The Hammerfest again tonight, however; feeling like shite, with the DTs all over me and my eyes so bloodshot that I couldn't see, it was only the mere fact that my brother Isaac (a Rhyl virgin) was making his live coastal bow amongst the spit and sawdust of the Dudley that I hung on in there 'til 9.30pm.
Should I be reviewing my brother? Should he really be using his real name? Isaac Crud sounds much better! The old man keeps harping on at me about the Crud moniker, 'Why don't you get a neilbirchall.com domain?' Eh? What for..? To shame the family name.. Anyway, should I be reviewing him, bearing in mind I was a giddering wreck by now who should be tucked up in bed?
Isaac possesses a quality that I sadly lack, he can play guitar to demoniacal effect, yes he's only 21 and so far only has the big bad world of Ruthin for inspiration and like his bedroom activities, he still plays with himself.
The song writing has matured since I last took a listen and they badly need a live band building around them, but the knack to take them out on your own with an iPod for backing also puts you in the 'able to earn money playing in the pub' category.
His guitaring was enough to leave my seasoned rock friends Tim and Mick with mouths agape, which is most definitely a thumbs up.
When I was in Sons of Selina we recorded a song called Off To See Isaac – it never made it onto either album and it was about Isaac Asimov, not Isaac Birchall, I do however suggest you should nip off to see Isaac too. I on the other hand got my second wind and having missed Saxon and Sepultura we stumbled onto Spank FM's Pete McGenius DJing a soul night in The Lorne… I think we crawled home at 3am….