(review by neil crud, pix by dekkers)

Save the Whale, Save the Children, Save with The Woolwich, now Save The Fricsan. To most of you, Y Fricsan will be as unknown as the village it sits in – Cwm-y-Glo (pronounced Come uh Glow – kind of). Nestled between Llanrug and Llanberis at the foot of a snow peaked mountain, this little pub has character and charm, and as a venue (judging by the signatories on the ceiling) has hosted all the important names in the scene.
Threatened with closure, I believe this weekend was organised to raise funds, and at £5 a head and being absolutely ram packed, the cash will go toward keeping this venue alive. Of course a one off injection is not going to last very long, and it's the pot heads, dead heads, happy heads, smack heads and dick heads that crawled along the Snowdonia trails to be here in force tonight that will determine Y Fricsan's future.
In my own perfect world, I'd have liked to hung around for the local return of Llanrug's Something Personal, but being a responsible parent I had to get the tired Crudlet off to bed by midnight, so missed out – anyone willing to do a write up on their set, please feel free to add it below.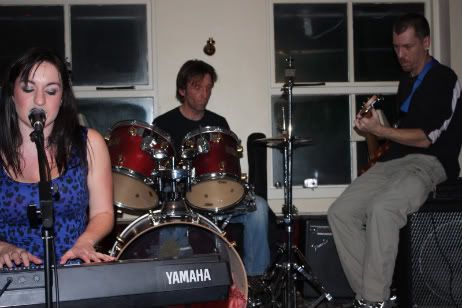 Billed as an open mic nite with a band headlining, assorted bods with guitar cases and amps milled about looking for leadership, Caernarfon based Sarah Louise (pic above) clung onto her keyboards in anticipation of honouring us with her voice of liquid gold. Up from London was the dreadlocked Nathan and his acoustic guitar and without a note being played in anger by gone 9pm, the writing was on that very ceiling that we were not going to see the end of the night.
It was also the local return of that ubiquitous guitar mercenary Duncan Black who had strapped his axe to his back and headed back to the land of my fathers from the garden of England to once again embellish our shores with his talents.
While I struggle with changing from an A to an E chord on the the old acoustic, Duncan opened up proceedings by jumping on his 6-stringed horse and galloping along the echelons of the upper J and K chords with such aplomb that we all wore shades! He was that dazzling!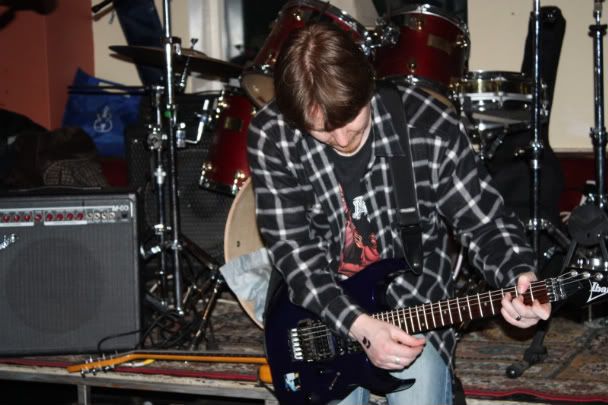 Duncan Black (or Dyncan as he was named on the poster) has played in more bands than he cares to remember, and watching him tonight you sometimes feel that his music does on occasion cry out for that backing, although being a one-man band of course has it's advantages, you're not going to split up because of musical differences and whatever money gained through performing does get shared out equally! So the man led us on a journey through his repertoire and delights from the album 'The Ubiquitous Guitar Mercenary' where I'm wondering if he has double jointed fingers to play that. You can keep your Stevie Vai's and your Yngwie Johann Malmsteen's, yes they are exceptional for two or three songs, but once you're over the phenomenon of shredding fretboards to pieces, it all becomes a bit of a blur. Where Duncan succeeds is through eclectism; the audience is kept interested by being fed course after course, from the opening Audiosculpture to Al Capone, Memories of Llanddwyn, Frosted Lucky Charms to the more grinding heavyside of Here Comes My Sick and that family favourite Shitfist.
Check 'em out on http://www.myspace.com/duncanblack