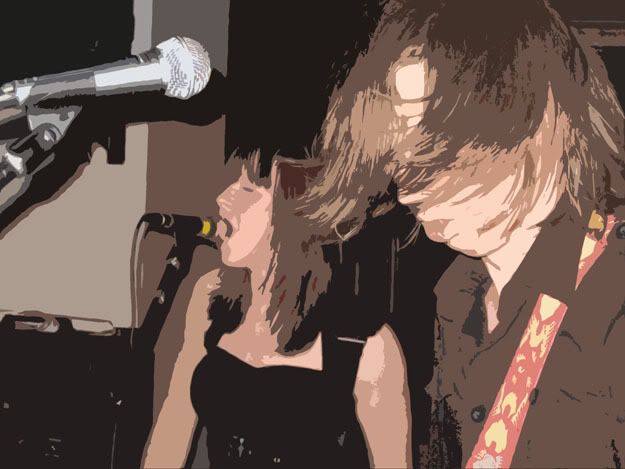 'She said she would never shave my eyes' – Bootnic (pic below) have come a long way since they first graced the boards of Rhyl as a schoolboy skateboard touting half covers band. A line-up shuffle and a couple of transfers, including the permanent loaning of Valleum's Alun transformed Bootnic from a lower division side into the premier league.

From the Valleum shaded promise of never shaving your eyes, they blast into the title track of their second (and in my view, proper) album Stwnch, which is at a good fast pace and worth donning your Sherlock Holmes cap and investigating further.
A good sound; which makes a change for this place, although once again the crowd numbers have suffered badly from the generational game that Rhyl plays. And in this round, the generation chooses to stay at home playing Tribal Wars.
'Is it ok to sing in Welsh?' Alun asked, and I think he was quite serious, after all this is Rhyl, and now that Liverpool has become a Spanish enclave, this dirty old town is the last Scouse bastion! A new LP is on the horizon.
www.myspace.com/bootnic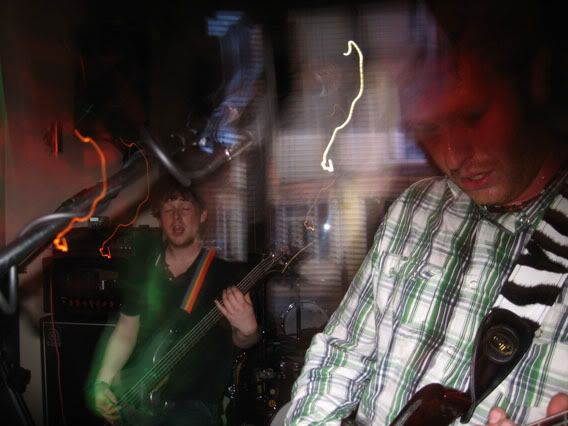 Any band from Denbigh will pique my interest as it was where I was schooled and dragged up. I was a Denbigh Boot Boy – as in I wore boots and I was err.. a boy. So when I received a CDr with Streams (pic below) scrawled across it, I grasped it with my usual enthusiasm and slung it on the desk for a couple of weeks. When I eventually got round to playing it I was shot between the eyes (like on one of those dodgy porno flicks). This band mean business, this was slick, polished, musically head and shoulders above most of the dross, and songwriting of the highest order. The acid test for me was; could they pull it off away from the comfort of a studio sound live and under the stairs of a makeshift venue in Rhyl? The answer? Well, almost.
Perhaps too eclectic for their own good at times which does lean more towards the softer side of an emo achtung baby U2, power ballads without the masturbationary shots in the mirror. This is a band with incredible potential, not only at closing venues (they, as Mylk were the last to play in Billys), but could be huge. My favourite was the closing number We Like To Fight; completely different from the rest of the set and maybe they need to drag the other songs into a middle ground between the ballads and the fight. Top marks though and an apple off teacher.
www.myspace.com/streamstheband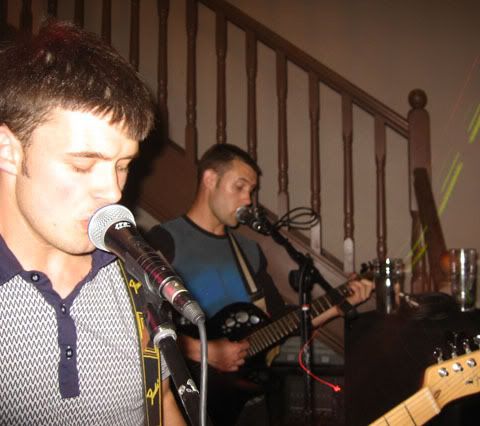 As for the venue closing exploits of Streams, it was just by pure unfortunate chance, as in Rhyl it never Rains, it only trickles these day as Rain shut its live doors for a final time and will jolly onto being the sports bar it was designed to be as Blood & Lipstick promoter Steve Rastin explains, 'Yeah, it's all over at Rain – the owner told me to cancel all gigs with immediate effect as he was losing money on them. Anyone who's been to the gigs won't be especially surprised as more and more people were voting with their feet and staying away from the place. The venue wasn't in the least bit suited to live music either acoustically or visually and when you factor in a door policy that was intimidatory, cramped conditions and the lack of a dancefloor it's clear that it was always going to be an uphill struggle to persuade people to keep supporting it. On the plus side, Frames should be open in about 6-8 weeks. We've got a planning consultant coming in next week so the amended application should be submitted to the licensing department by the end of the week and, provided there are no unforeseen glitches, we should be given the green light relatively quickly. The plan then is to turn the place into a multi-faceted entertainments venue along the lines of what I'd wanted to do at Bar Blu and I'll start posting updates as events unfold in the coming weeks.'
My own views are that the new generation of gig goers in Rhyl are not in bands themselves. When we had that explosion of talent in 2003 with all those bands on our doorstep, the gig attendees would be other bands' members and those who weren't in a band would be inspired to form one. It just hasn't happened this time.
Which brings us to the thyrd and final band of the night, Thyrd Eye (top pic). You would look at the poster and think nothing of it, and yet, had it said Bitchpups the head count tonight would have been far greater. For Thyrd Eye were the Bitchpups and after that Forgotten Sleep. Same band, same great sound, different name. Tho' they'll always be Bitchpups in my heart!
I've never been a fan of bands changing their names for the sake of pleasing some runny A&R cyst in London. You can picture the conversation, 'Love the band, but I don't like the name.' And so, the band, hoping to get that all important deal, change their name. Tetra Splendour did it, Trip did it, they all do it, do they get signed? Well, I dunno. Does it make a difference, well, yes, it confuses the fans and boosts the ego of that runny cyst in London. Twat. Wanker. Shithead. I really hate them and the thought that the way people obtain their music these days makes me smile at the prospect of those tossers paying visit to the Job Centre.
Thyrd Forgotten Bitchpups Eye Sleep are a hard gigging band, they started at the grass roots, but keep returning with each name change and perhaps need to draw a line and build on their fan base the good old fashioned hard way (which they do anyway). The music industry has changed, it's the bands working for the labels whereas the bands need to take control, and many are. Thyrd Eye possess a harmonious togetherness being siblings, it's a kinship, call it what you want, the result is fucking great.
The outstanding Say Something sends shivers down my spine, and to hear two people clap out of an audience of 20 may be demoralising for a band, but for someone like me to write and tell you that Thyrd Eye have the qualities to be the most important band of your youth, mid-life, middle age, old age, where ever you are when you encounter them. This is no small statement, it's as bold as spraying it in 10' letters across your living room. This is a fact of life. Embrace them. Enrich your purpose for existence. Make your days have meaning. Fulfill your outlook. This band can do that!
Bollocks to playing in Rhyl to a dozen emo twats, you're better than that. Next stop America, as the Bitchpups(?!!!) Less pandering to the whims of an A&R man (one person's opinion! As is mine I suppose) and more about what you believe in. BELIEVE IN WHAT YOU DO not what someone else wants you to do.
Am I angrily frustrated..? Yes, I guess I am….
www.myspace.com/thyrdeye
(Blood & Lipstick promoter, Steve Rastin wrote):
Interesting, and I suspect very accurate point about the amount of talent that was just waiting to have somewhere to play in Rhyl in 2003 which was the cornerstone of the success of the gigs in Bar Blu back then.
However, it went far beyond the fact that there were just a lot of very good bands that I could put on at the venue as their following(s) were also the core audience on the nights when they weren't playing and this resulted in the Wednesday night crowd being very much a community, often turning up neither knowing or caring which bands were actually playing.
I used to refer to Junebug / Gintis / Jives Room as "the three headed monster" and they typified what I'm on about as the various members of the three bands used Blu as their Wednesday night hangout every week and brought all their mates with them.
Members of other bands like Homespun, Kneejerk and Carpet also used to be there week in, week out with their mates – on a good week (and there were plenty of them) the place was almost like a who's who of the area's music scene.
All that gradually dissipated as various members went to uni, got jobs, got hitched etc and no-one has really followed on from that.
There are still bands forming in the area but none of them have yet shown the promise of the class of 2003 and one factor that is perhaps making it harder for them to establish a fan base that would generate a new community is the more stringent approach to ID'ing punters that exists now.
It's a fact of life that bands like, for example, Un-Aimed are aged 16-17 and most of their fans are of a similar age.
In the good old, bad old days a lot of their following probably sneaked into gigs using a fake ID and, provided they didn't do anything to attract the attentions of the security staff, stayed in for the rest of the night.
As venues have come under ever heavier pressure from the powers-that-be to ensure that underage drinkers stick to raiding their local off license as a prelude to getting hammered in the nearest bus shelter, it has forced a much more stringent approach to ID from the doorstaff.
The net result is that young bands still play venues but their mates can't get into see them, preventing the germination of that next generation audience that venues need to encourage to survive long term.
If Frames is to be successful, it is going to have to find a way of generating a community spirit and that is something that is going to be a tall order in the current climate.
It means that it is going to have to look after its customers better (a less intimidatory door staff, fairer drinks prices etc – EVERYONES' opinions on this subject are more than welcome), there is going to have to be a greater degree of quality control in terms of the acts booked and it is going to mean diversifying into other areas of entertainment to generate additional audiences if the venue is to be viable.
On the plus side, the facilities are going to be infinitely better than in the past with a massive permanent stage and PA and even a dressing room (not quite the Ritz but at least functional) and a willingness on the part of the owners to invest where it's needed.
The venue is housed on the floor above the snooker hall and has a 30′ x 15′ stage that we've railed off so that over-enthusiastic punters don't go crashing into the gear (a regular occurence at Blu that I seem to remember was a constant source of amusement for the Crud Crew and a pain in the bum for the poor sod – usually me – who had to disentangle punter from mic stand!!!).
The venue will have its own bottle bar, though draft will still be available from the lower bar in the snooker hall, there's a smallish dressing room for the bands and the initial capacity will be 250, rising to 350 after a probationary period.
Completion of further work on the building will give it a 495 capacity which is why I believe that it has a hell of a lot of potential.
If this is achieved then maybe, just maybe, the town's live music scene will be returned to the halcyon days when Bar Blu and The Dudley were at their best – a best case scenario could even see the venue aspiring to being the new Breeding Ground (now that's a statement I've never had the balls to make before!!!).
It's achievable but it's going to take a lot of luck, hard work and, equally importantly, a fair crack of the whip from the powers-that-be if it is to succeed.
Most vital of all, however, is it's ability to engage with enough people to see it through the area's seasonal peaks and troughs and to do that it is going to have to be sufficiently attractive to pull in punters from outside the town and its immediate hinterland.
If it manages that, the future will look exceedingly rosy but if it fails it is difficult to see any kind of future for live grass roots entertainment in the area.