(review n pix by neil crud)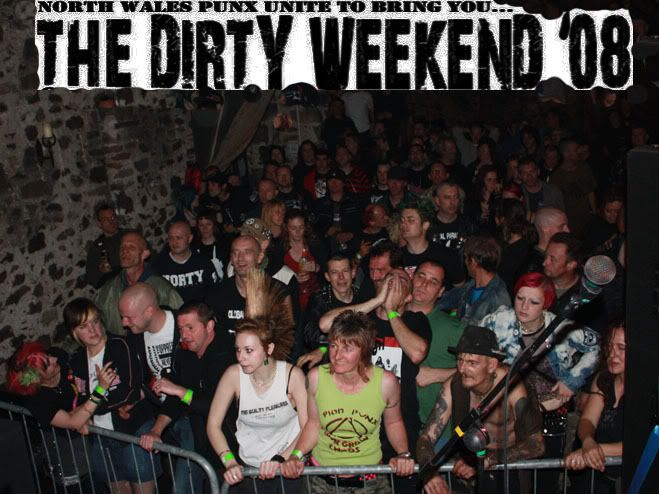 I've got cuts and bruises, my body's aching, I never want to see alcohol again, my ears are ringing and my liver has packed up and gone to live in a distillery, What a great weekend..!
In previous years Dave Cox has flitted between the Dudley Arms and The Morville in Rhyl for the Dirty Weekend Festival, and where they have been decent venues, they haven't been festival sites. Enter Hendre Hall, the perfect setting; no neighbours, a great live room, superb chill out courtyard and camping facilities. Enlisting the knowledge and organisational expertise of Dave Hollerhead, the two Dave's (or Cox and Holly Ltd if you like) stuck their necks out to make this a professional and wholly enjoyable experience, and they booked the glorious weather to go with it.

My ears are ringing because I didn't miss a band; the ones I've seen before I wanted to see again, and the ones I hadn't, I knew would be quality.
It wasn't all plain sailing though. The location of Hendre Hall would have caused a few delays for people looking for the place but it was hats off to the Highways Planning Department for giving the nod for a cycle path around the Pen-y-Clip Tunnels. The cunts; and they are cunts in the highest sense of the word who piled yet more misery upon thousands of people travelling West over the weekend. I guess they couldn't arsed authorising the removal of the traffic cones on Friday afternoon to completely alleviate this problem. I would have liked to have dragged the person responsible from his bed and thrown him in to the middle of moshpit when Discharge were playing 'Never Again'.
That aside, I have been really looking forward to letting my hair (singular) down this dirty weekend and with the opening band stuck in the proverbial traffic, it was left to our hosts Global Parasite to start proceedings. There's no fucking about, they get on stage and get the fuck on with it. This is punk rock (I'm gonna be saying that a lot in this review) but there's more to GP than just that. I'd almost say progressive punk but it's more pro-aggressive punk and people are talking highly of them, from the anthemic Smash The New World Order to the excellent Unite as One they are bursting with songs. They ended with the newly penned Never Forget, a sentiment and a tribute to the much missed Johnny Williams who died two years ago.
Officer Down finally clawed their way through the A55 traffic and onto the stage. These spunk upstarts are from Evesham, more reknowned for it's golf course than punk bands. Even this early on the crowd were getting oiled, 'They was good but I could only dance on the spot cos I was wankered,' quipped one punter, and someone else in the crowd kept shouting for Blood For Oil, which was a very early song in their career – they didn't play it. Ex-Stuntface guitarist James Flames, here with a strictly come-drinking outlook enjoyed them enough to shout, 'Fuck off back to Evesham you golfing cunts,' all in the nicest possible taste of course, and he compared them to Leftover Crack meets F-minus.
Jay from Connah's Quay said, 'I've been here since 6pm and I'm wankered and I'm having a fucking blast; the music is the dogs bollocks.'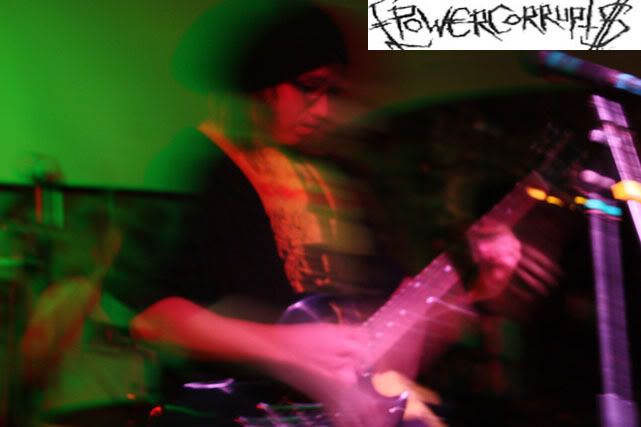 I had not seen or heard of Power Corrupts before and when I asked Ste Brute if they were any good, a 'oh fuck yeah!' was volleyed back at me. So now having seen them, when faced with the same question I would simply reply, 'Oh fuck yeah!'
'Any good?' is perhaps the wrong question – are they fucking ace, would result in the same answer. Spawning from Sheffield with what looked like a 12 year old guitarist; like Officer Down, the young ones are gradually needling their way into the scene in preparation of a take over – viva la revolution. This was stupendous stuff, fast without losing it, holding it together, every note inch perfect, hitting the G-spot everytime.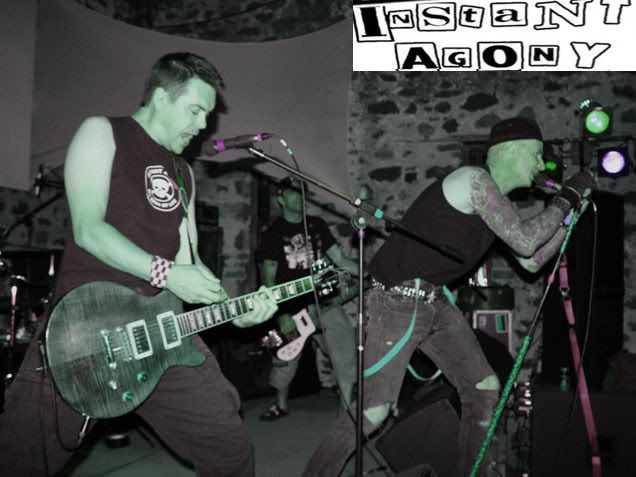 The traffic stragglers had by now erected their tents and the hall was swelling with masses as Instant Agony took to the stage. It's like ordering your favourite curry from your favourite Indian, you know it's gonna be spot on everytime, otherwise you wouldn't bother asking for it. Instant Agony are the same; they're my favourite curry of the punk rock variety, hot and fucking spicy. I know I can travel the length and breadth of this godforsaken country and get a taste sensation of Instant Agony guaranteed. There will be no surprises, although you do get the odd chilli thrown in now and then. Instant Agony – Instant Happiness more like – fuckin' love 'em – the cunts.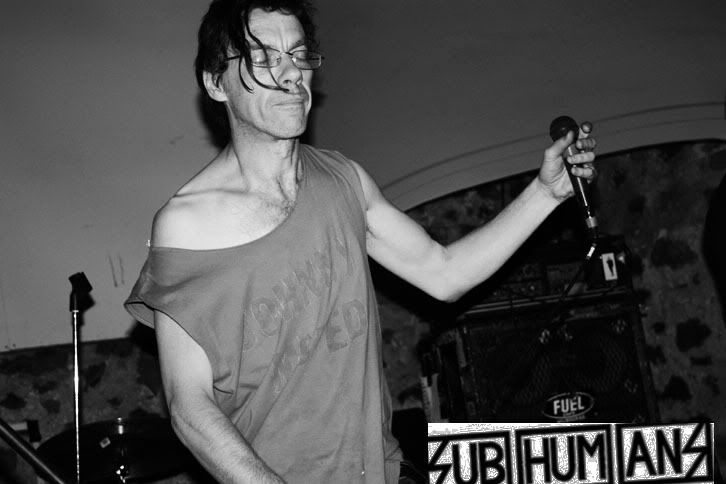 As a wee boy I would send £1.50 of my hard earned paper round money in a sealed envelope to some address in Melksham and Bluurg Records would send me the latest Subhumans release. I would play the songs on the record player that my mum had bought me from a second hand shop for £25, I would read the lyrics religiously and I would praise the lord for giving us the Subhumans. Six or seven years later I was in 4Q and we supported Culture Shock in Bradford, Dick actually remembered the gig! And four years after that we (well, 3 of 4Q) saw Citizen Fish play the Ship & Castle in Caernarfon. Tonight was the Subhumans' first foray into North Wales as that incredible band from the early 80s anarchist movement. They kind of grew up alongside the Crass movement, often crossing lines but maintaining their own identity. So having finally seen the Subhumans some 27 years on from my paper round days it's another box ticked, and it was a big fat juicy tick. Ask anyone who among that swollen throng of sweat and mohicans, you'll get the same answer – what a fucking performance. Old and new it was crisp and clear and stamped on your forehead.
Of course, the reality of this review is that I remember very little of the Subhumans set as my liver became more and more saturated and my mind blacked out. I do recall having the stupidity to lob my £500 camera behind the drumkit for safekeeping, and the sense to retrieve it. I also vaguely recall thinking that drinking a bottle of Jack Daniels with MWJ, James, Elliot, Kaz and possibly Officer Down at 4am was a good idea. It was of course a silly idea…
Holly told me that after the Subhumans set someone came up to him and admitted he had sneaked into the festival, but had enjoyed it so much that he wanted to pay! And he did…
Punk rock is a phenomenen. From being that 12 year old buyer of DIY punk in the early 80s, where I kept Dick Lucas afloat along with Conflict, Crass, No Future Records, Riot City, Rot Records, Xsentrik Records. Where I kept myself educated through Sounds magazine and the few fanzines that did the rounds. By the time I was old enough to form my own punk band (4Q) in 1987, the scene had really taken an underground dive and was so deep under the surface that endless factions lived in their little caverns and the unity was splintered by political correctness gone mad. You were anti-this and anti-that and you were fucked if you wanted to have a laugh, everyone was so serious, so hung up. Chat a girl up, you were sexist, hate hip-hop, you were racist, anarchism had become a form of nazism – do it our way or suffer the consequences.
Punk is now more of a community than it has ever been before and the emergence of new and young players has breathed life into it where the teenagers mill about with the 40 year olds, and there's no heirarchy or pecking order, we all get on. The nazi-anarchists became Travellers and the rest of us started to realise that it wasn't a crime to get pissed and enjoy ourselves, and that's exactly what we do.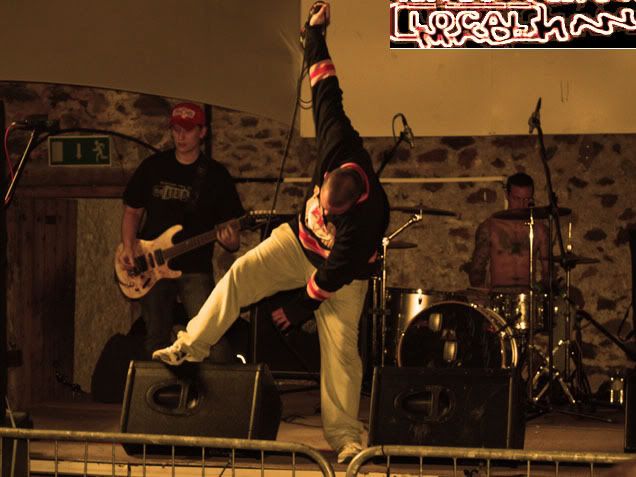 On the Saturday I finally dragged my lifeless corpse into a vertical position and stumbled in zombie fashion towards the racket that is London's Local Mad Man, making their 3rd appearance up here in our green and pheasant land. Managing to (almost) keep their clothes on this time they promoted their eponymous CD (due out next month) with a tremendous Extremely Noisy Terrorist style set – hardcore to the bone, and the perfect breakfast band. 'Should be sponsored by Kelloggs' suggested MWJ, who then went on to tell us that Henry Kellogg invented cereal to stop people masturbating!
My favourite band of the moment – Anti Virus burst into The Alliance and quickly into Fire In The Age of Aquarius as frontman Father Gary Hubble preached the sermon of politically aware punk rock with an edge. Anti Virus have taken protest punk to another level with clever structuring without the self indulgence. The perfect hangover cure, although they did suffer a bit because of the lack of bass levels and they (apart from the tee-totalling Gaz) were also suffering from stinking hangovers, that said, it was still their songs I woke up humming the next morning.
Ram-man are a black country fast paced 5 piece punk band with good full on songs and sound. What they had going against them was the glorious weather outside and people reluctant to leave the warmth of that glowing ball of fire in the sky. Despite that they look and sound like those excellent US punk bands of the late 80s (Dagnasty, Attitude Adjustment) and you could just picture them playing at some riotous outdoor festival full of marauding punks and burning cars like on the Lost Boys.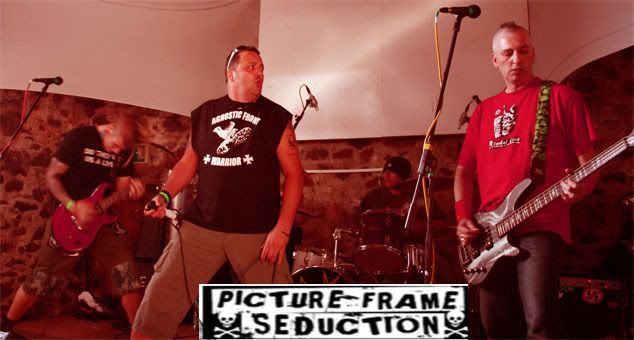 Up there with the highlights of the weekend were Haverfordwest's Picture Frame Seduction. They made the journey North last night, with vocalist Keith coming up today. I guess the pent up frustration of being stuck behind tractors on all those shitty A-roads was the perfect prelude to doing a gig, for they delivered a spot on 45 minutes of pure old school punk rock.
Stop The Slaughter and Fuck You saw the speedo increase and still as uncompromising as ever, finishing with No Way. Pity they only play a handful of gigs each year. So while you're waiting you can check out their LP 'Sex War.'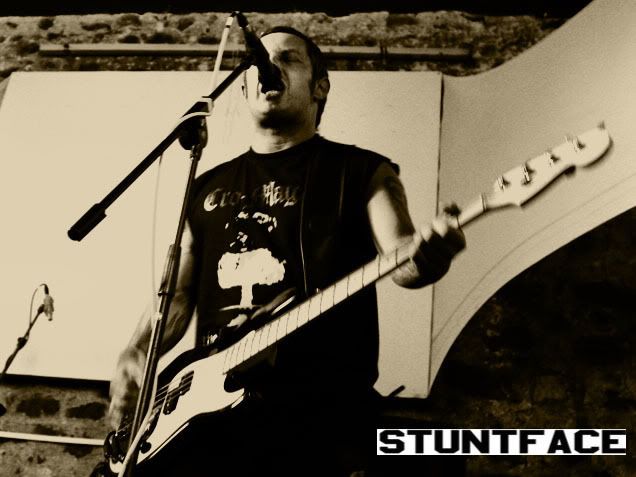 Rhos-on-Sea's hero punk rock drummer Ton was good enough to stand in as a last minute replacement when Stuntface made a cry for help; thus enabling them to play this festival. And what a replacement! It's the best I've seen this streamlined Stuntface play. It is also testament to the North Wales Punk Rock scene (NWPR) that a drummer from Rhos who plays for a seminal punk band from Birkenhead (Instant Agony) can stand in for Wrexham's Stuntface. From Holyhead to Birkenhead and beyond, this scene is unique, amazing and fantastic. Just like Stuntface, with Wayne on top form.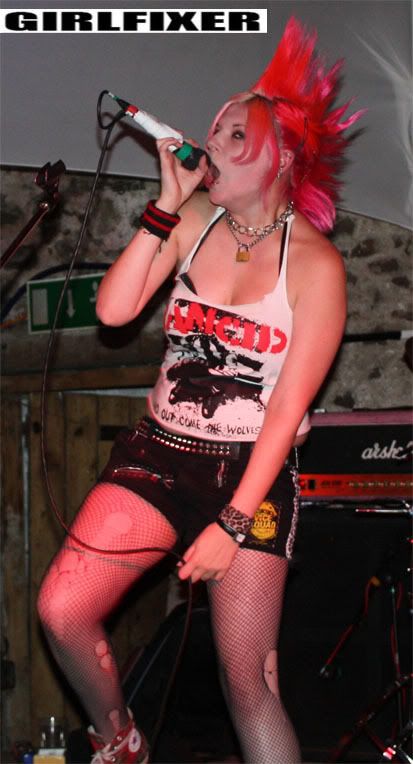 A much needed break enabled us to hunt around for a sparse commodity on this site – food. We finally tracked down a Punk Rock Chilli stall, selling veggie chilli at a quid a plate. Top stuff and then back to the action with Girlfixer who very much wanted to sound like The Distillers and on occasions did so in vocal style and in song. Formed in 2006 in Nottingham a peek at their flyers show that Girlfixer are a hard gigging band.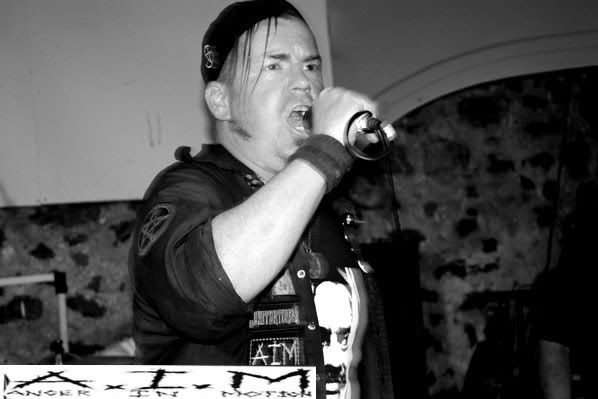 As are Anger In Motion all the way from Brisbane in Australia who are by all accounts ripping up venues in their wake. They had stiff competition in the ripping up stakes tonight and were more metal influenced than most of their counterparts, yes yes I know, a guitarist plays a solo and suddenly the band is accused of being metal! Fronted by Mark who looked hard enough to survive a night out in Rhyl, they delivered a solid no nonsense professional set, with the added bonus of their own Bez in the form of a 6-year-old kid who danced on the side of the stage throughout!
Birkenhead's Mere Dead Men, fronted by the definitely not a man, but blonde beauty Mandy provided a nice break from all the intensity of brutal breakneck speed with some tuneful 12-bar punkrock'n'roll. Formed in 1985 (that's 23 years ago!) tonight they ticked all the right boxes and I agree, Georgie Best is a superstar who wears frilly knickers and a playtex bra. I didn't catch the last 10 minutes as I had nodded off in a chair – that's no offense to the band, but more of a hats off to alcohol. I dragged myself up and snuck back to the Crudmobile for a quick 40 winks and returned revitalised to catch the second half of the socio-politically driven Inner Terrestrials performing to a packed out hall. The campsite and Locksley's superb chill out zone were empty for the first time this weekend as the punk-reggae fuelled songs got the room skanking and bouncing.
Ferocious! That's how you'd describe Discharge, and bonkers is how you'd describe the crowd – they went mental. Put it this way, you wouldn't take Ratty home to meet your Mum as he'd probably take her head off with one scream. That aside, the hardcore brick wall punk that is Discharge was a joy to behold. In fact Gaz said he did a little sex wee when the opening bassline of Ain't No Feeble Bastard spurted out; I think I crossed swords with him on that one! The bruises will go down, the chants of 'Decontrol Decontrol we've been shit on far too long' will ring around my head for weeks, but the memories will last forever…
Fucking great weekend.
 (additional notes by mwj)
As yer Crud was saying, having frequented Hendre Hall on many an occasion part of the excitement was knowing the great potential this venue had to serve the Dirty Weekend. Having been working in Bangor I avoided all the road works hassles caused by my colleagues, or ultimately, the Welsh Assembly, and had the luxury of hitting the pubs before driving down. Though the forecast was great I couldn't be arsed with a tent and was set to kip in my car/hearse until I saw the luxury accommodation of Elliot the Winnebago Warrior (or was it a racing Ducati?). Fortunately I scraped under the 8stone weight limit for the top bunk and we were sorted.
It wouldn't have been a festie if all had gone to plan and the first hiccup was overcome by Global Parasite firing things up first, the usual hardcore and heart felt mix of melody and fury flown through to free themselves up for organising/drinking/organising drinking. They gave Officer Down a chance to complete their journey and they were soon flying through their set of similarly up-tempo blistering tunes. Power Corrupts were quite a revelation, for such a young band effectively reproducing '89 UKHC was much enjoyed. They should have done a Dr and the Crippens cover. Instant Agony are always consistent and hopefully this setting and the response they got to their singalong hardcore would be a good memory amongst their long history. Finally, the Subhumans who I knew little of beyond their reputation, both originally and since revived. They certainly delivered the goods and were worthy headliners, it was great to see a packed hall bouncing along to the tunes. I thought they could be arguably a UK equivalent DK, with the singers expressive gestures like Jello's mimes, the welcome meaningful lyrical content, and the diverse, rapidly changing tunes. Great stuff, and though the outside music was curtailed we continued partying with our raffle winnings and Crud's bottomless hip flask till, shit, dawn? Though we never found the answer to whether it is possible to sleep in a Subhumans TeEPee, especially if it's only 7" high…
The next day was rapidly scorchio, reminding us of the spirit of Hellfest, though we were still chilling in extreme comfort. This attracted some abuse for our credentials from some pisshead who turned up to launch abuse in every direction at those he considered not true punks before demonstrating one extreme of what may come under that generalised banner by being beaten up by his mates and left in a ditch for the rest of the afternoon. What was far more pleasing to see was that the general core of folks attracted from all over to a punk festival was positive people, enjoying, sharing, celebrating.
Things literally seemed in a different light as the sun streamed in for the earlier bands in the afternoon. The non-nude Local Madman did as intended and blast-beated away the cobwebs. Anti-Virus were great if, understandably, rough around the edges and the complex and thought out music is enhanced by the easy going banter. Ram-man I'd seen before but were even better, a their furious hardcore a highlight for me, really surprised how the temporary bassist had got the stuff sorted so quickly. Picture Frame Seduction were new to me and had a bit more tightness no doubt due to their longstanding, good vocal hooks came across well. This built up to the early evening peak of Stuntface, who were pretty blistering with a new and improved drummer, their tunes are just that and reside in the head permanently
The evening break allowed a sample of the delicious "brown acid" chilli, but I was already in such a state that it was dubious that I'd be able to spot any additives. Such a laugh was being had that we might almost have missed the sound of distant drums hearalding the final batch of bands, starting with Girlfixer. The obvious attraction of the girl singer focused the attention, she certainly looked comfortable up there but I didn't feel the music was much out of the ordinary. The Aussies Anger in Motion had a metallic edge to their hardcore, the singer certainly gave an intense show. They threw in a few covers too that went down well, especially a fine version of Ace of Spades. Madness that they'd come over here self-financed for just a week or so though. MDM I had tired of a bit before, not enough bite for me so a brief break mooching the throbbing bass out at the sound system proved more satisfying. Via a trip to the fireplace that fortunately did not provide any suitable timbers to set fire to sleeping bald conts, returned for the Inner Terrestrials who were something a bit different, a gear shift to sharp skanking, at times almost dubbed out, at others quite charged with pace. They are obviously festival veterans and regulars and worked the crowd excellently. All roads led to Discharge though, and once the tangible fear of earlier that they hadn't arrived yet was replaced by the appearance of their merchandise and then lo and behold the band themselves the celebration was complete. As with last night, so completely worthy of finishing us all of with the definitive d-beat battering, the songs flew through and though the set may have been a little shortened the quality of classics played made up for the quantity. The only time I'd seen them and even though it was only another version of the many in their history, I was so carried away I dreamt I launched myself into my bunk for the night only to find that it was actually a moshpit!
(more pics)