PICTURE FRAME SEDUCTION
OFFICER DOWN
THE EXTINGUISHERS
SMACKRATS
GREBO BASTARD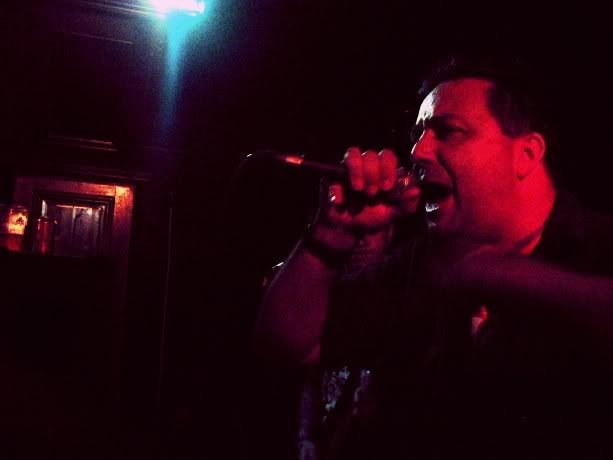 Picture Frame Seduction
As Bar Blu was opening for the last time across the road as a nightclub, and, for the last 5 years a Wednesday night venue. The Dudley Arms remains a phenomenon and was celebrating (ironically) 5 Years of Pigtown Gigs – has it really been half a decade?
One thing you know is that the Pigtown crew do like to pile on the bands of an evening and you're usually ensured it'll be quality stuff.
Tonight was no exception – top notch all the way to last orders…
First band Grebo Bastard won many plaudits, but unfortunately I had to pick up Dean and Claire on the way into town and they insisted I showered with them.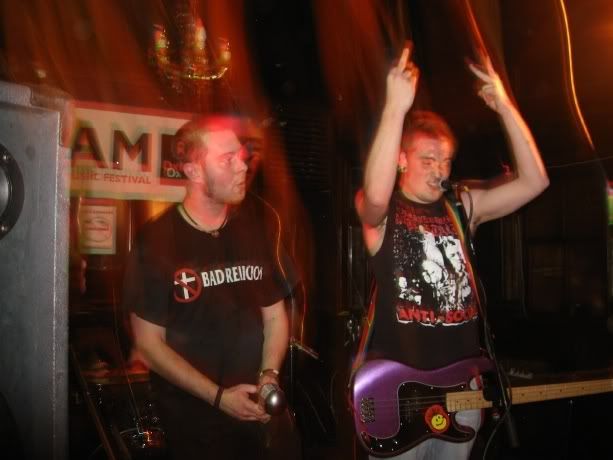 So The Smackrats (pic above) were headlong into their set by the time we had settled into our opening pint. What can I say? A fuckin' riot! By the penultimate song, their take on Cocksparrer's Take 'em All, vocalist Smila had already lost his shoes and was now prostate on the dancefloor, with his socks being removed by frivolous females! Maybe they have a severe foot fetish! They get better everytime I see them (the band that is).

Last minute replacements The Extinguishers (above) hail from Bournemouth, and rather than wipe old people's arses for a living, they opted to free themselves from the geriatric hell of a home town and tour the UK. They brandish a top speed bass driven ska/punk, with the emphasis heavily leaning on the punk side of matters. A very young band but very much in your face – happy to ram home their messages of isolation and despair. A good tight unit; maybe a stray note here 'n' there from the arrogant bassist, but who's taking notes!?

Officer Down (above) were simply quality – I could end it there – in fact I think I will – full on hardcore fuck you sunshine punk rock – quality. Did I say quality? Sorry I meant FUCKING QUALITY. Also, Dave Cox played drums on one of their songs.
That left us with one more band, and although we all like to think we're seasoned hard as nails punk rockers, there are those who stray off home before the witching hour, leaving the die hards to enjoy a quality (did I say quality, I meant Tidy!) set from Picture Frame Seduction.
Breaking in a new guitarist, I had earlier heard them mutter that they'd not be breaking him in but breaking his neck if he fucked up. He didn't, he did them proud and he saw the set out with said neck intact. 'It's a shit name, but one we have to live with' said lead vocalist Keith to me earlier as he sank yet another Red Bull – that's the drink not an embarrassed bovine, although Keith looks hard enough to down the farmyard variety too. He channelled that caffiene fuelled energy into a searing performance, fast, loud and pure punk. Check out their split LP with True Sounds of The Revolution, the track Sex War in particular, originally recorded for an unbroadcasted session for the Adam Walton Show is one of the most superbly performed studio tracks I've heard. Full of power, energy and vigour. Just like tonight's set.
Dave Cox later said, 'Picture Frame Seduction were £30 short on their petrol funds, but instead of being arseholes (like a lot of bands have been in the past when under-payed); the singer Keith gave me 5 copies of their new album "Sex War" to sell, and send him the money when they've all gone.'
Adam Walton added, 'That session never arrived. Not the band's fault! Producers didn't chase it up. I didn't chase it up. Stupid, really. I'm glad they've managed to use the recordings, though.'
Check out some of these bands and a whole lot more on Crud Cast Radio – www.myspace.com/neilcrud
www.myspace.com/theextinguishers