(review n pix by neil crud)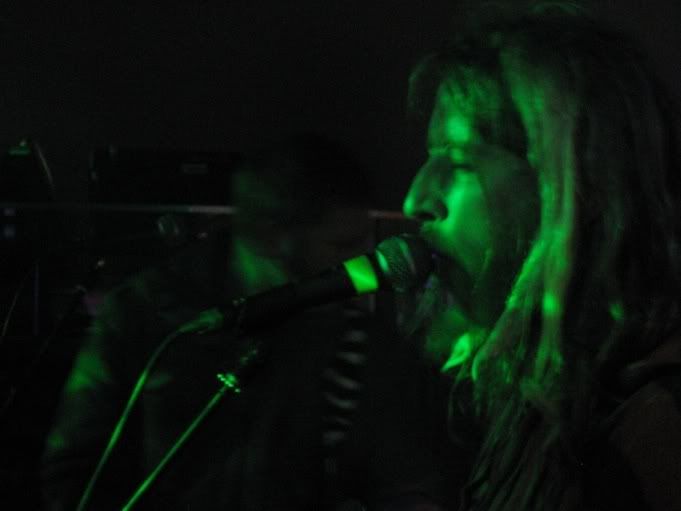 I had a text off Steve Sync this morning: 'Fucking hell I feel rough as fuck.' I read it from the slumber of my bed and realised that I too felt the same and vaguely recollect getting up and throwing up during the night. Who's idea was it to round a great gig off with 4 shots of straight Jack Daniels? Err… I think that was mine.
They were celebrationary shots for braving the torrid weather to catch up with Anglesey's finest freaks of nature; Valleum. Or the rush could've been brought on by seeing Steve Sync playing his new accordion before we ventured out. I tried to get him to pose in his y-fronts and feathers in his socks, but he wasn't game!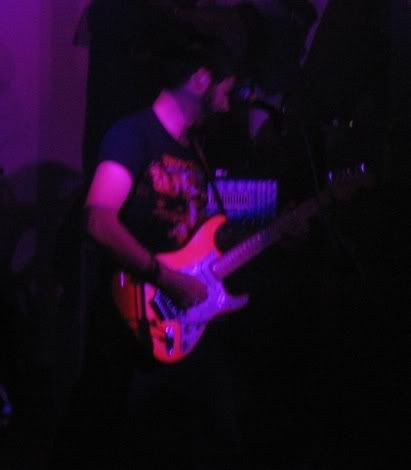 We stumbled into Blu and across Jonny Lantern's latest side project Zebedy. It's a case of getting the shredding out of your system, and I guess the rest of Lantern punch him when he gets carried away on the guitar, so Zebedee acts as a release valve to wank the fretboard until it's sore. There's no denying the excellence and skill he has, and its abundance was slashed, thrashed and mashed out in an instrumental 40 minutes of guitar showcasing.
What he and his brother and other sidekick should've done was hang around to see the next band…
Valleum are the jewel in the crown, 'I don't know myself anymore, I don't know Michael Barrymore' – you simply can't make this stuff up! It has to be drug induced, perhaps they mainline valium. The song Barrymore kicks in an becomes a mandolin driven electric folk song that could have been driven from some unknown east european corner (Amlwch!).
For lyrical content alone, the band should be awarded some gong, or maybe a bong would be more fitting. There are no throw away songs, nothing makes sense as they twist their already twisted minds and tantalise the consciousness from the cradle to the grave the Roger Waters.
They didn't play that beauty tonight, and you know that three albums into their ten year career they have a wealth of songs to choose from.
The third album 'The Rainbow Hours' was snapped up by the audience as the band finished, it will have been played in their homes by the time you read this review and they will marvel at the sheer brilliance of this band. I strongly suggest you do so to.
'Happy slapped in Birkenhead I've lost my mobile again.' – Inspired!
On asking some of the audience what they thought of Valleum, they told me they'd hadn't seen them before but the response was, 'Fun, just great, dirty filthy fun, feel good vibe, I'd pay to see them.' Well, they did pay to see them and with some bands you wish they'd just end their set. Valleum announced their last song and a feeling of regret descended upon Blu, 35 minutes is not enough!
'If you want to fuck me feed me chocolate.'
http://www.myspace.com/valleum