Dogsflesh,
The Liarbilities,
Give Him To Mongo
Kid Von Pervert
(review by MWJ / pix by steve brute)

The usual microcosm of punk scenes in general reflected through the ongoing sterling efforts of the folks from Pigtown. It's not just Dave but a whole host of the regulars who are always willing to chip in to assist in anyway possible, to overcome the inevitable hiccups that result from low budgets, and that's good to see, anarchy.
Things aren't helped at all by no less than 4 bands crying off trekking to this foreign land. Oh, the weather forecast is bad, we might get trapped there! Rhyl is a scary prospect indeed but come on, show some balls. Maybe they should put more thought to the mutual support between bands and promoters, pull too many and you'll find nowhere left to play.
Anyway, a respectable line-up of 4 bands had been salvaged, and a reasonably full, (almost) smoke-free pub achieved. The three piece Kid Von Pervert (pic above) are obviously not long formed but had a pretty entertaining approach to their mix of psychobilly/country punk, jangly guitar and frenetic double bass that unfortunately didn't seem to produce much bass as opposed to clickiness until towards the end. Still, a bit of Johnny Cash, some murder ballad, an even more uptempo than the original version of the Misfits "Astro zombies" showed a lot more promise than some of the more clichéd "trad" psychobilly stuff I've not enjoyed much before.
More conventional 80's-ish punk from a young band GHTM (pic above) also down from Teeside with the headliners. There was a steady pace to their numbers which dragged a bit initially, especially as the vocals from the mighty mohawked frontman were a bit flat, probably due to perennial PA problems.However, their set took a quite dramatic turn when, after a polite check to make sure he hadn't come down with the travelling bands, some arsehole who had been giving nazi salutes at the side of the room was eliminated with extreme prejudice. I hadn't spotted the offence myself, but was as equally disturbed and so extremely pleased to see him disappear under a rain of haymakers. The fact that the majority were delivered by someone who had only had a cast taken off the fist in the last week showed the level of hate this shit can inspire, and the fact that the skinhead was still attempting salutes as he was piled out of the place demonstrated his own warped insanity. Personally, I'm all for freedom of speech and expression for the Nazi's, far better we see the cunts for who and what they are and are able to challenge them directly than have them working in secret. Although, as was pointed out when Dave gave a shout that "it's alright the fascists have gone now, we won't be marched of to the death camps yet" someone did retort "yeah but Blair's still in power", we do indeed have a bigger problem.
Carrying on gamely to a somewhat reduced crowd in the chaos, GHTM did indeed pick up a fair bit in their last few numbers, a good hook in "E.U., Fuck you", effective chugging in "…Society" and ending, with many backing singers, in a raucous cover of "if the kids are united". Which is more than can be said for Sham 69.

The Liarbilities were my pick of the evening. (Bowler-hatted) Style and confidence in their performance, with a sharp edge to both their music and vocals, yet with a raw swagger to their punk that couldn't help but catch you, like a more melodic Amen meets the New Bomb Turks. Unfortunately they were plagued by guitar and mike tech difficulties, giving the rhythm section chance to give us some funky breaks. No-one lost interest though, and tracks like their (hometown) "Birmingham's Bleeding" and the closer "two against one" were good enough to persuade me to pick up their cdep.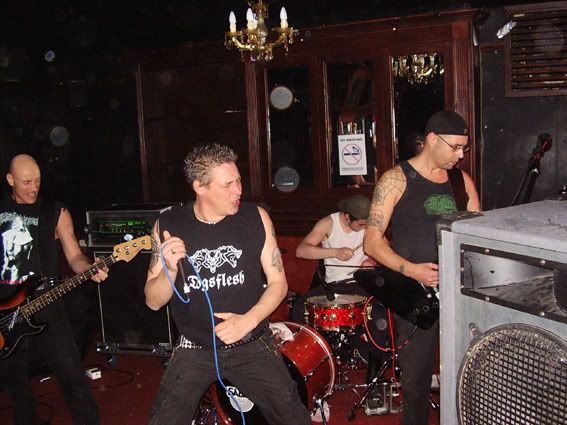 Finally Dogsflesh, a recently reformed 1982 hardcore band, were certainly an intense proposition. Very much in the mould of their erstwhile influences and headliners The Exploited, their relentless riffing and the gruff to the extreme vocals almost showed a leaning towards Discharge or Extreme Noise Terror. Only the vocalist showed much life on stage as the musicians concentrated on the ferocity, but unfortunately the lack of audible lyric hooks kind of took the edge of my enjoyment, despite my love of the genre. Also, a lot of the young crowd had headed for bed as we entered the early hours, I'd have been disappointed with the numbers if I'd travelled as far as them but to be fair they didn't give less than 100%. They wisely gave themselves a breather by dropping down a couple of gears in the middle before returning to full speed, closing with a cover of the classic "dead cities" which brought an expression of "joy" to my face which can be viewed elsewhere in the vicinity of this site, and also the approval of the landlord which is always a good thing for future venue prospects. The next lineup here looks equally appealing with a return of Stuntface, some crust and some local nutters with a point, give them your support.

your erstwhile reviewer MWJ