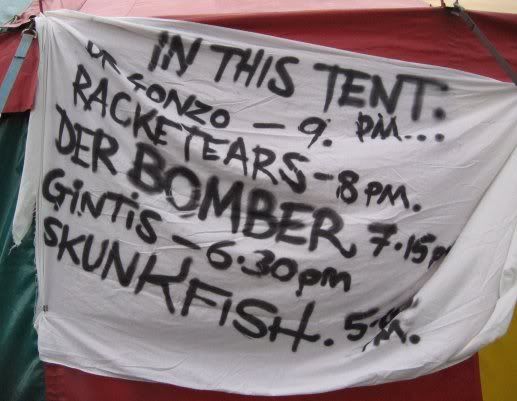 (review n pix by Neil Crud)
RACKETEARS
DER BOMBER
GINTIS
SKUNKFISH
Party In The Parc
Eirias Park, Colwyn Bay
05.08.07
I parked the Crudmobile up on the main road and walked down to this one day festival cos obviously there'd be no room in the park itself. How wrong I was – I could've reversed a bus down there it was so sparse.
Now wait a minute, what went wrong? You've a full day event, good weather, great bands – where are all the people?
Ah… hold on, there's no alcohol permitted – no beer tent…
'We don't want that kind of shenanigans in Colwyn Bay – drinking? Not for us thank you very much…'
With that attitude and a great deal of security bods patrolling the event to bully Dave Cox into handing over his smuggled cans it is of no surprise that hardly anyone showed up.
The only place where it was 'appenin' were on two of the 5 stages (although I couldn't see a fifth one…?) – JuZ's hip hop tent where the kids got down to it with Abergavenny rap maestros draped in gold etc – and the Complete Control Music tent where our local heroes blessed us with their presence. Both tents were full and bouncing and there was a chilled out acoustic thang going on with a few bongs floating around in tent No.3.
The main stage was graced, with rubbish cover bands and jazzy-souly kind of artists who would've be fine HAD THERE BEEN A BEER TENT and the Mums and Dads would've brought the family; the kids would've gone and had their faces painted etc while the parents got merry in the sun and chilled out to the music.
Take note organisers – next year – BEER TENT – BEER TENT – BEER TENT – if you wanna make money, take a look at Pigstock in Denbigh – they have far more rubbish than what you put on, and yet sell out everytime; I dread to think of the attendance sans alcohol.
Rant over…
Gaz Hubble of Skunkfish (pic above) emailed me to get my sorry arse down to the tent this afternoon, so I made the effort to come a bit earlier to catch their set. On MySpace they had always been a little too RHCP for my liking, and yes it was the obvious lazy comparison, but seeing them in the flesh, live and raw is pretty, if not very impressive. Immensely talented, he seems to get lost in the song as the guitar is thrashed, trashed and brought back to life; under the ever supportive and solid back line. Well worth the £2 entrance fee, Skunkfish are full value for entertainment, 'Funkin' Marvelous' as Dave Cox put it. I also noticed Gaz has the word 'FUNK' tattooed in huge letters across his back – Skunkfish do exactly what it sez on the skin. Boom boom…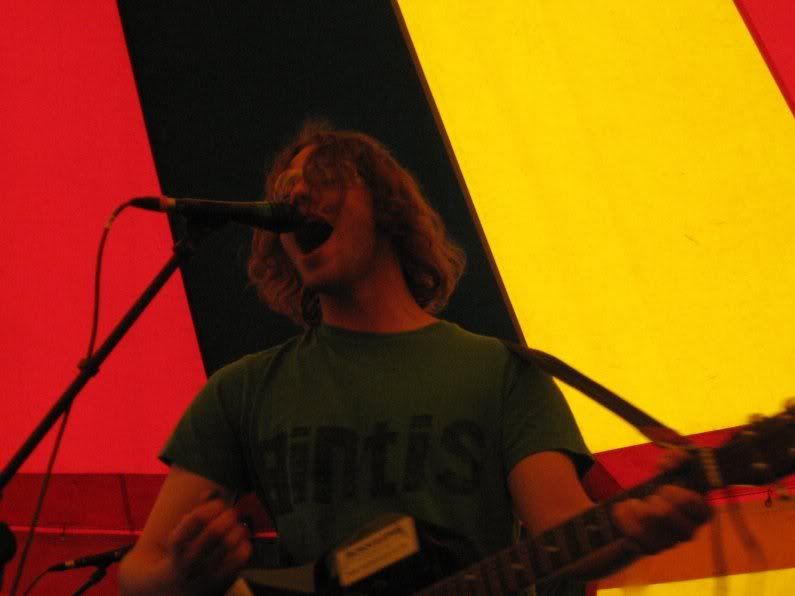 Gintis (pic above) gave us a happy drunken accident of a performance, with some sneak previews of the new album they're recording, you know your lounge-time chilling is going to be one of inspired wonderment once its released. Their only let down is their equipment – Fernando Alonso may well be one of the best Formula One drivers in the world, but put him on the Grid in a battered Ford Cortina and he doesn't stand a chance…! Buy some new gear you bunch of pissheads. Great performance though…!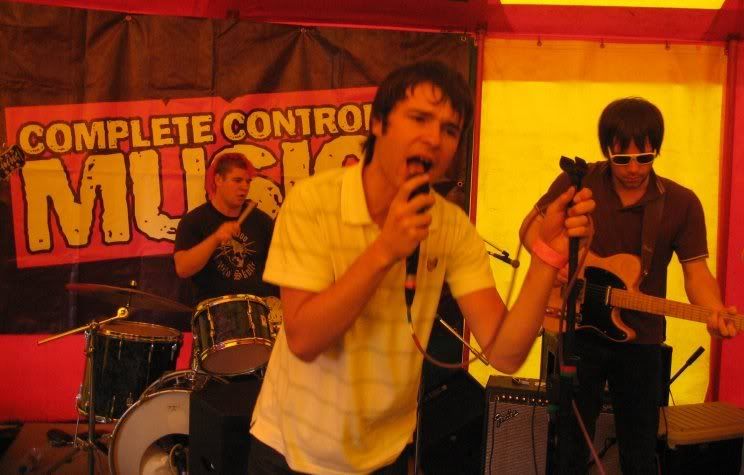 Twice in a week and I get to see Der Bomber – meaning twice the entertainment from a band possessing all the hallmarks of being true stars. All the bands would've been far better on the main stage had there been a BEER TENT.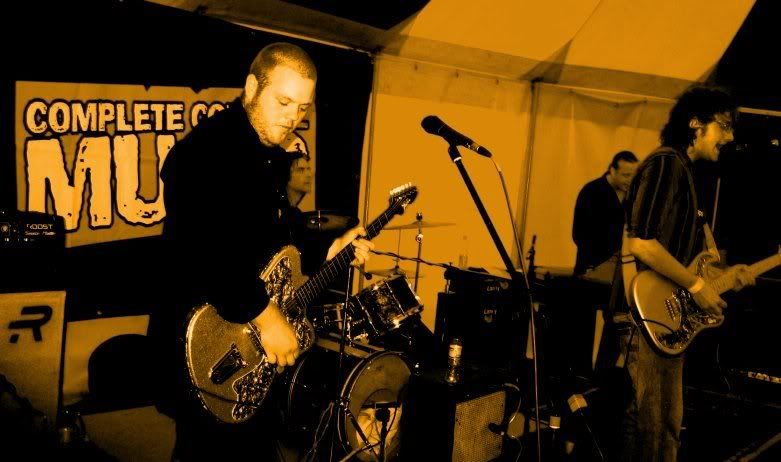 Playing on home turf The Racketears found Der Bomber a hard act to follow, and a quiet monitor made the vocal at times sound almost as off key as Gintis! But The Racketears performed admirably to an appreciative and packed tent (sadly not a BEER TENT) – what a superb song 'Tundra Boy' is…! And why does the keyboard player look like a doorman? Tom Edney on vocals did stop proceedings to celebrate the scu…. Err I mean Man Utd's victory in today's Charity Shield, the band went down in my estimations from that moment on… heh heh heh…!
A great afternoon – shame there was no BEER TENT…