Sick 56, Instant Agony, Erase Today, Barnyard Masterbator, The Smackrats, Swallow, Global Parasite

Not so much of an entire dirty weekend for me as a filthy Friday, but I tend to feel that way most times I visit Rhyl. Just unclean. Coming over on the train to enable copious refreshments found that the show times had had another last minute re-jig which left some spare time to go and enjoy some cordon bleurrgh cooking and renew wonder at folks actually coming on holiday here
Global Parasite were up and running when I returned, maybe as valiant organisers they wanted to get one element of responsibility out of the way so they could better enjoy the rest of the evening. I'd caught them for the first time just previously at Blu and was impressed how this large (I didn't say fat!) portion of the excellent The Cox has continued to progress. Harder-core, better melodies, and succinct political awareness. I'd still like to hear a bit more clarity and punch to their lyric/vocal choruses to get the messages across (though Dave may end up sounding like Lemmy again) but a great opening from the local favourites. They are joined by survivors of Out of Use for a ferocious version of Black Flag's "Rise Above", prepared with as much subterfuge as a "Murder she wrote" episode apparently.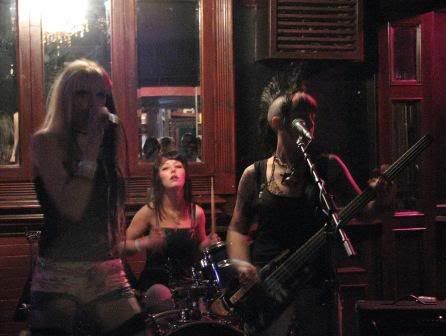 Easy to look to dismiss the all-girl Swallow as an image over substance entity but proved not to be the case. For sure, they certainly are eyecatching but their very rocky punk has an infectious groove about it, and the main vocalist could definitely sing when she wasn't shrieking. I believe they were the first of a few Blackpool bands down tonight, including the headliners. This lead to some good natured foul mouthed banter between them and the crowd which, for most of the night, had a fair proportion of band members in it throughout. They also gave the uniquely feminine lyrical perspective – "This ones about sucking cock for waltzer rides!" – for their track Carnival.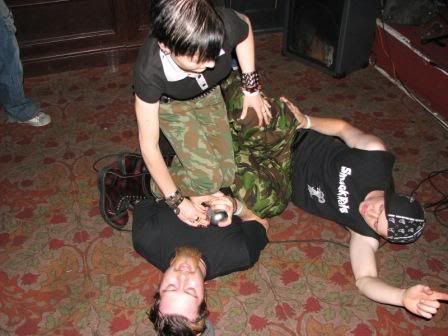 The Smackrats rode the fine line between out and out chaos and explosive performance well enough to be the stand out act of the night for me. A wandering nutter of a vocalist with not much thought of self preservation, some interesting and intricate song structures that were never standing still either. They played with a sense of fun but also with a touch of fury. One number featured a lyric of purely "Oi" and I think everyone in the room had a turn on the mike eventually, another "15 seconds", was about that. The overriding description best suited was raucous and massively entertaining for it.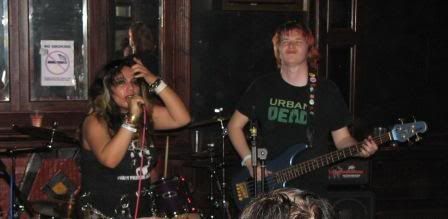 Another female fronted band in Masterbator next, not as striking for me, perhaps suffering in contrast. While the music was solid enough I thought the vocals were a bit lost and so a bit hard to pick up on any hooks. That said they still put their heart into the show and kept the atmosphere good, as people to-ed and fro-ed from the smoke garden to the band room.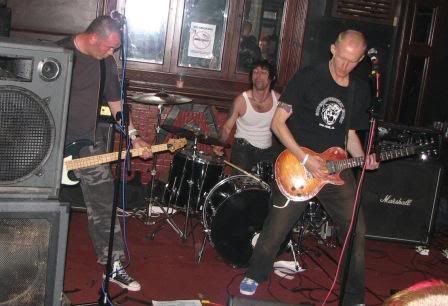 I didn't realize till they'd started up that Erase Today are fronted by Andy who runs the JSNTGM label up in Blackpool, and whose multiple ongoing efforts to organise stuff up that way included putting on Jello Biafra's spoken word show up there that I saw a few years back. Anyway, they were certainly the most melodious of the acts tonight, both with vocal harmonies and also a somewhat lighter/clearer (though none the less energetic) guitars sound. Without a doubt they conveyed plenty of emotion in their songs and gave the impression they'd been well thought through.
Having seen the last two bands on multiple previous occasions I felt I wouldn't miss too much ducking out before the end, quite satisfied with some quality bands now, and leave the rest to their marathon weekend. I had an overwhelming urge to go fucking about on train tracks. But you can't blame the music for that.