(review n pix by Neil Crud)
Yikes! £15 each! To get in…! The moths in my wallet needed mouth to mouth, but as Steve Sync said, 'It's for a worthy cause.'
And that's coming from someone tighter than a euphemism I've not made up yet! Sync had texted me to get my sorry arse down to the Dudley as Three Minute Warning were setting up. I unfortunately didn't get there in time and by all accounts the place was bouncing during their rip roaring set.
We walked in on Mere Dead Men (pic above) and I'm sure they were playing Dave Edmunds' 'Queen of Hearts' in their bubblegum punk style. Far better than the last time and their set was only marred by someone in the crowd literally shitting their pants.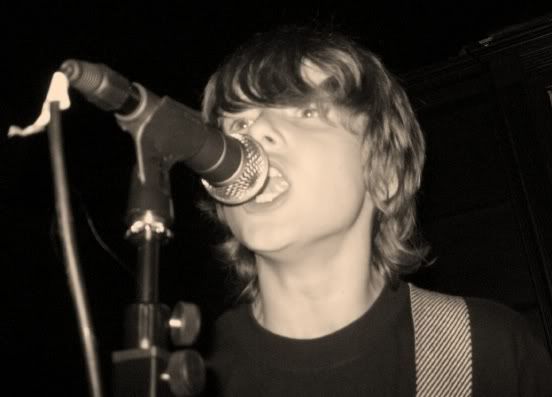 Outl4w (pic above) are knee high to grasshopper with a collective age of about 10. There was always the risk of being a novelty band due to their tender years, but these preconceptions are not just swept away – they're blasted away. This is a seriously fucking good band. There's no need to compensate your judgement because they're still schoolboys – there's pedigree and quality within this full on unpretentious fast punk rock.
I bought my first Riot Squad (pic above) single 'I'm OK, Fuck You' when I was probably Outl4w's age. The band looked vaguely familiar and were far better than I remembered. Playing with punch, vigour and energy that exceeds their years!
Dave Cox, on seeing The Dean's photos of Saturday night did beg the question if I was too pissed to remember the bands to write a review… He may have had a point, but I felt good and the vibe was good also. And I felt a lot better when Spikey Cat told me that Andy from L98 last night first puked over himself before literally pissing his pants.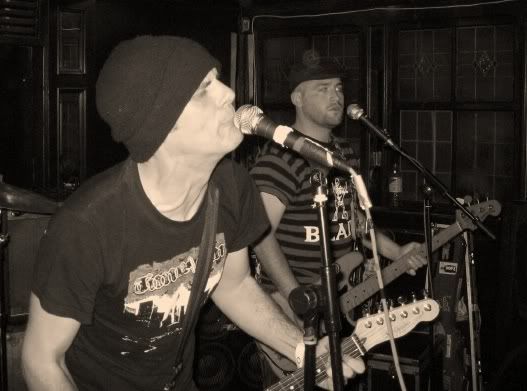 The Strawberry Blondes (pic above) first came to my attention a couple of years ago when they did a session on BBC Radio Walton. Their rock'n'roll punk in a Clash-Ramones styli went down very well with the hoards.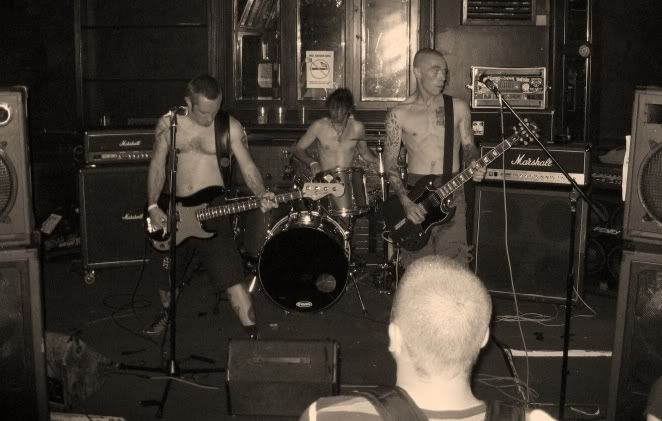 Is this a honing festival? Have all the bands being tightening up their acts for deliverance? Stuntface (pic above) were flawless. I had to approach their set with a second Stone Roses album attitude; meaning, if you watch Stuntface as a new band rather than compare them to the old line up, you'll understand how fucking good they are. In the same way that second album is great on its own merits rather than on that of its predecessor.
Drongoes For Europe are always good for entertainment and came up with a simple solution to their rhythm guitarist causing them problems on stage; they sacked him after the opening song! Tracks like 'Freakzoid' and 'Who The Fuck Are You' excellent in their own right were eclipsed by the superb 'Don't Wanna Be Like You' – dedicated to any suicide bombers passing the building (plenty of them in Rhyl mate, but no fucker notices when they detonate as the place is a bombsite already). Hard, fast and fucking good.
London based Def Con Zero (pic above) continued this brilliant upward trend of very loud, very fast and very good punk rock, with tracks like 'Nightmare' spat out with loads feedback. The fact that they had to cram their songs in due to time constraints made it all the more intense and enjoyable.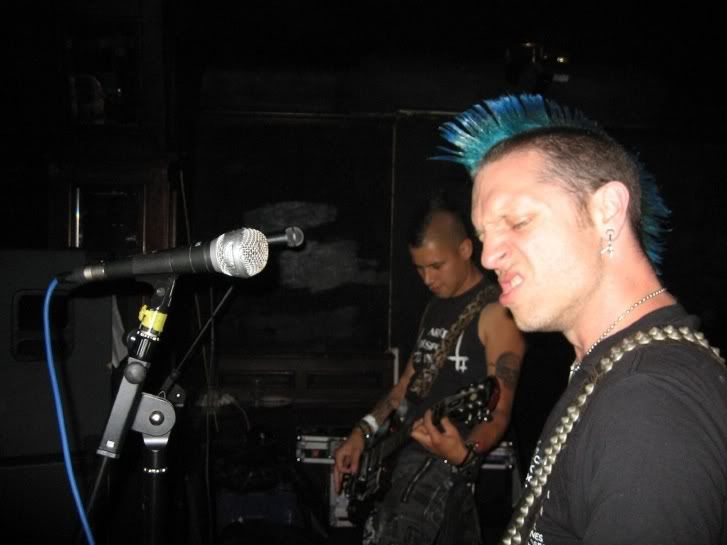 Headliners (although today everyone has been a headliner) The Restarts (pic above) had an excited Dave Cox run outside to the communal yard at the back of the venue screaming,
'The Restarts are going on now!'
And we dutifully followed him to fill the live room once more. Again trying to fit a 45 minute set into something like 10 minutes bode for an intense performance (it was about 25mins in the end). We got songs like 'Outsider' off the new CD, about not giving a shit, and 'Legacy of Bigotry' – mohicaned punk rock, ranting, shouting and screaming at you. The singer sounded very much like he of Krondstadt Uprising.
Hocky of Instant Agony hasn't quite sussed out how to use his new Fanny Pump
My only gripe with the bulk of these bands is they're lyrically so depressing! Haven't they heard of Snuff or the Toy Dolls?!! There again I was only the other day thinking how this world needs the Dead Kennedys and Crass again to provoke the conscience before we all go down the pan. So it is a saving grace that the Dirty Weekend's line up exist to keep the banner of morality flying.
Oh… and let us get pissed and have a great time too…