(review n pix by neil crud)
Ha Ha Ha..!! Some things will live on in the memories of those who experience them forever. The incident tonight at the end of Stuntface's set is one of those things. It's gotta be the funniest thing I, and all those present have ever seen at a gig.
Stuntface were steaming along to the cresendo of their set, there's bodies leaping everywhere, when suddenly from behind the stage, Punk in Drublic promoter, Dave Cox emerges with his nob out, pissing toward the crowd!!!!!
He then lies on his back, spreadeagled on the edge of stage, happily sprinkling into the air and over himself!!!!!!!!!!!!!
The landlord of the Dudley, not at all pleased with seeing his live room used as a toilet, rushed in, grabbed the offending urinater and threw him out! My legs collapsed as I and many others creased over in fits of laughter. It was so so funny!
Holyhead's Sick Dastardlys (pic below) kicked off proceedings with a short set of old skool punk. Someone had earlier mentioned that they were a bit sloppy, but that's part of their set, or their live set anyway as the bassist Lee sends volleys of wayward riffs as he paces the small stage. Take that away from the band and you take away their energy.

http://www.myspace.com/thesickdastardlys
Stockport is a strange place, it's a shithole precariously balanced on the edge of the beautiful Cheshire countryside. I guess even supermodels need to have a shit, let's just say Chester is Kate Moss or Naomi Campbell and Stockport is her shit! So the aptly named Second Hand Shit (pics below) came to grace the pavements of gold that is Rhyl.
With the moon reddened in full lunar eclipse outside, these 30 something (maybe more) screaming punk rockers belted out song after song. Very fast with an early Discharge style, including the vocalist. A great sounding distorted bass guitar complimenting the lead and incredibly fast drumming.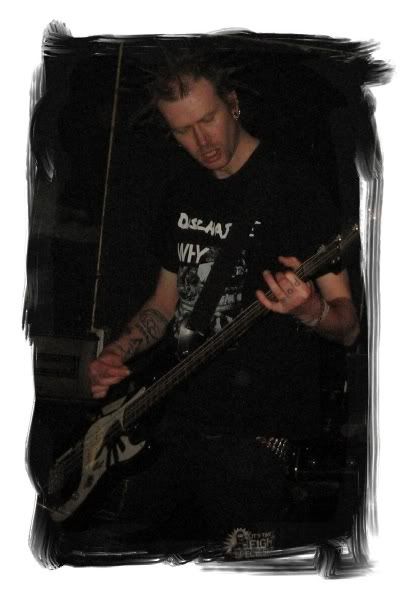 The Stuntface (pic below) break up about 18 months ago was a bitter one, they battled it out in court over who'd have custody of the kids, who was having the settee, how they were going to split the CD collection etc.
Stuntface was Wayne's baby, so he kept the name. And yet the original line up was not just about him, it was about four individuals, all of whom contributed to the overall superb blend they had.
I was speaking to someone last week about them and she said they were good, but not as good as the original line up. With that in mind, I had to watch the band like I had to listen to the second Stone Roses album; as if it was a new band; putting what they had done before out of mind.
With that out of my tiny little mind (which is the state I was becoming to anyway thanks to a cocktail of Stella and Carling!) I watched Stuntface as a new three piece. But watching wasn't enough… Wayne, with his bass strapped slightly higher these days, announced that the next song will hang around his neck like a millstone and they slammed into 'Time To Die' – I then stopped being a spectator and joined the throng of girly moshers down the front!
A smattering of old and new – both as good as each other, and very much Stuntface.
You usually expect to lose the loose change in your pocket pogoing to this stuff, and gain a pint of beer in the face, but you rarely see a fountain of piss making it's way across the stage. The look on Wayne's face was a picture to behold as Dave Cox stood there arcing his aim at the crowd!!


Having been ousted, Dave climbed over a back wall and returned through the ladies' toilets! With his trousers sopping wet with his own piss, someone said that he had blown his chances of copping off tonight. Dave replied, 'I was never in with a chance anyway'
Rock and roll….!

Creased up on stage and laughing!!

Dave Cox showing his yoga-pool techniques

Uncannily this wouldn't be the last mopping up time of the evening!!!!!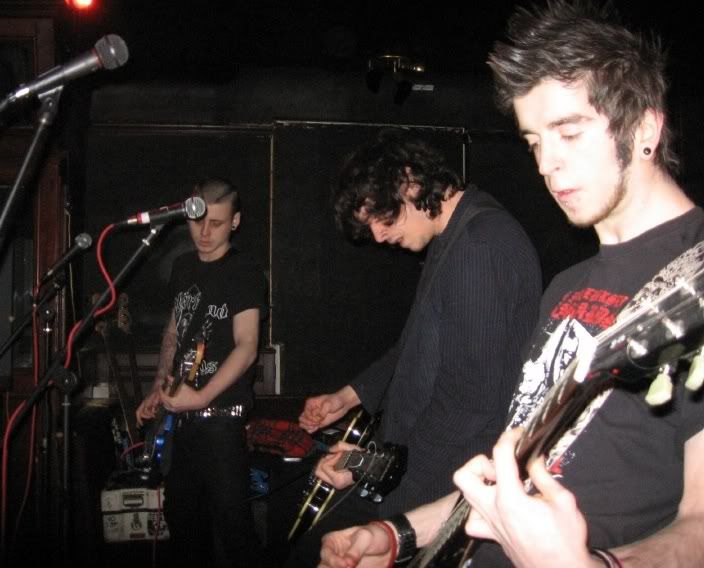 Sick Dastardlys