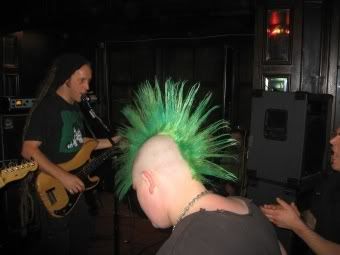 They caught me in a giving mood – all of them! I bought just about every CD available on the night, an Instant Agony t-shirt and Mad Dog's new fanzine 'Not Very PC, But Fuck It.'

Running two hours late (of course!), showtime was supposed to kick off at 3pm (just like soccer matches used to), but late arrivals ensured this would not be the case.
Strolling in at 7.30pm meant we missed (I'm guessing here) The Sick Dastardlys, D'Corner Bois, Projectile Vomit and 4Jerry – that's if they all turned up.
Plenty of peeps here to pay tribute to the late and great Johnny Williams meant plenty of beer flowing in all directions for the cameras. S4C's music programme 'Bandit' were here, having just discovered there's a thriving thronging punk scene on the North Wales coast. So they were stage side with cameras getting covered in gob and other bodily fluids as they sought anyone who could remotely string 4 Welsh words together. I bet they don't use my floundering interview!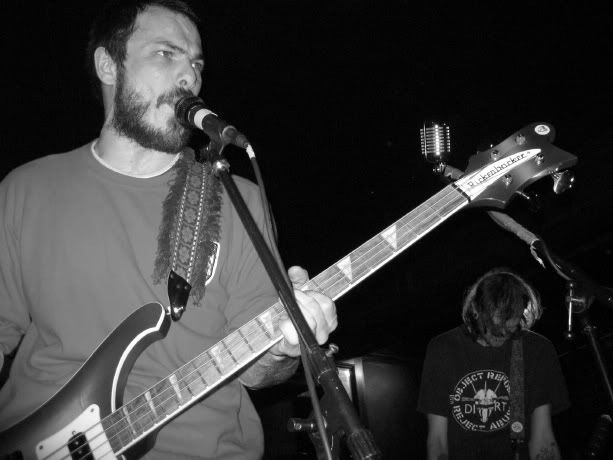 Less Than Dogs (pic above) were thumping through their set as we approached the Dudley, it's a warming familiar sound/feeling of another special night in Rhyl.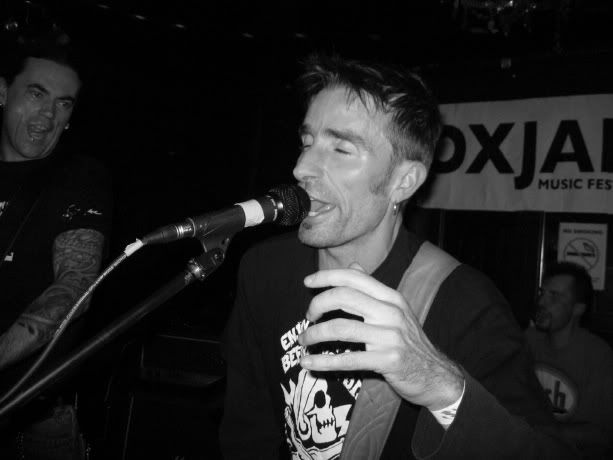 Six 8 (pic above) from Brittany are in the midsts of a UK tour. I have their 'Electricity' CD in hand and it's not as ferocious as their live act. Maybe they were originally inspired by Bangor's Anhrefn, who trod many a Brittany board in the early 90s? Six 8 opened with a skanky guitar and vocal before thundering into a ska'd-reggae number in a White Man in Hammersmith vain. Superb stuff and the reggae opening was just a ploy to turn heads before they excellently delivered a well honed set. Great on stage – brilliant in fact, and the packed room agreed.
The band kept looking at each other as if to say,
'Fuck me! We're French and all these Welsh twats are lapping it up!'
There was even a Billy Bragg type ditty 'We are the last working class heroes' before it finishes with a one chord thud. Nice one.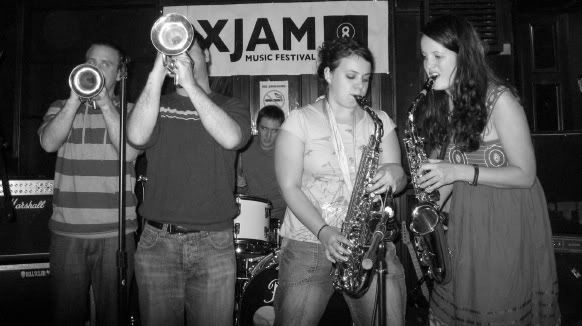 The Minions of Jeffrey (pic above)- all the way from that famous seaside resort called Bolton, kept up the high standard. The 4-piece brass section on stage front made an immediate impact and was top quality stuff. A far cry from the plod punk rubbish you get from a lot of the tired old bands on the circuit. There's nowt wrong with a bit of old school punk by an old school punk band, but top marks to Punk In Drublic for not putting 10 of them on the bill..!
This isn't the blah blah blah exhaustive old words over worn out chords – this is vibrant, this is alive and this is spitting. With the brass boys and girls at the front, the bearded ranting vocalist is more of a sideman than frontman – shoved behind the PA stack. Excellent song structures without being prog rock – immense!
Check out their 'Stories, Tales, Lies and Exaggerations' LP.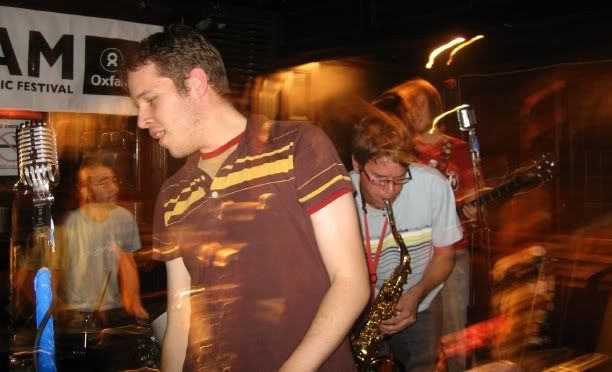 The Stop Outs (pic above) were more ska orientated, to the extreme of playing a great version of the Madness hit Night Boat To Cairo. And again – the quality was of a superior nature, with (as with all the bands) a truly stonking sound! No feedback, no muffled drums – it was all there – bang on..!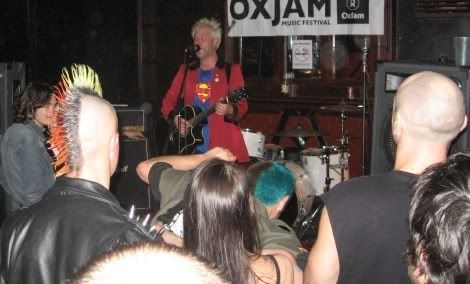 Busking refugee Paul Carter (pic above by Tim) is a bit Captain Hotknives. Armed with his guitar, a bottle of peroxide and a tirade of abuse. He entertained the wife beating drinkers and gave our ears a welcome break from the wall of sound. He even sang about those lovely ladies, the Traffic Wardens of Rhyl, relaying his sorry experience of being done over by them on his first visit to our town. He rasped and ranted, he's old enough to know better, which just so happens to be the title of Paul's debut LP (on Punk Shit Records).
'I'm not Billy Bragg, I'm God.'
Damn right.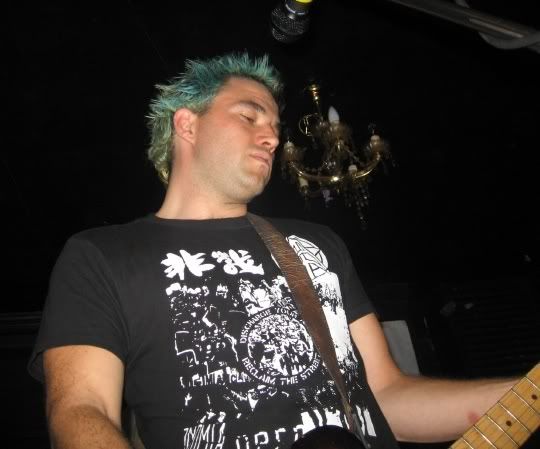 The Inner Terrestrials (pic above) left a bit of a sour taste as they exited the stage tonight. They wouldn't hang on 40 minutes so Global Parasite and Instant Agony could use their back line, so the gig ended prematurely. Before hand they opened with a Radical Dance Faction meets Ruts DC type song in a mould that has been quite prominent today. Full on skank influenced stuff ensured there's no breaking from the norm, but who was complaining? Great stuff, but like I said – it was a pity for the last two bands, the crowd and the TV cameras that IT weren't prepared to hang on to let them play.
A pity? It was a pretty shit thing to do really and totally out of the punk spirit that Dave, Steve and Matt have built up in this area over the last few years. Gutted, as I had saved up all my moshing tokens for them…
To Johnny Williams… RIP