(review n pix by neil crud)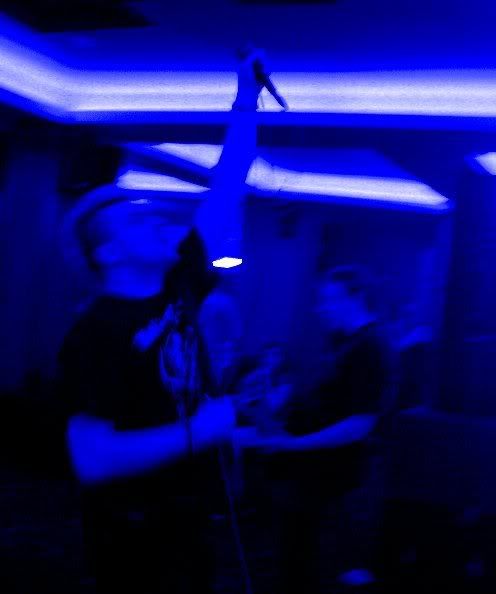 Are they from Holyhead or Caernarfon? Well the drummer is from the top of the isle as he is none other than Portrait of A Lifetime's techno whizz kid DJ Nietzche. The Mephs (pic below), who thankfully shortened their name from Mephistophelean Engines of Pleasure are however worlds apart from the break beat punkdom that PoAL spit at you. Sync, Scouse and myself were debating whether Iron Maiden had once missed the ferry to Dublin and did an impromptu set at The Edinburgh in Holyhead and these misfits had chanced upon them. I guess this pisses on my bonfire if the band are actually from Caernarfon, but Holyhead is such a hub of rock'n'roll mayhem these days that I've heard that even Radiohead are dissing claims they're an Oxford band and stating they're born and bred Holyhead. The Coral? Scousers? Rubbish! Holyhead. U2 from Dublin? Bollocks, they're from Holyhead (actually The Edge has family connections in Caernarfon – and Dawn French is from Holyhead, although not a member of U2).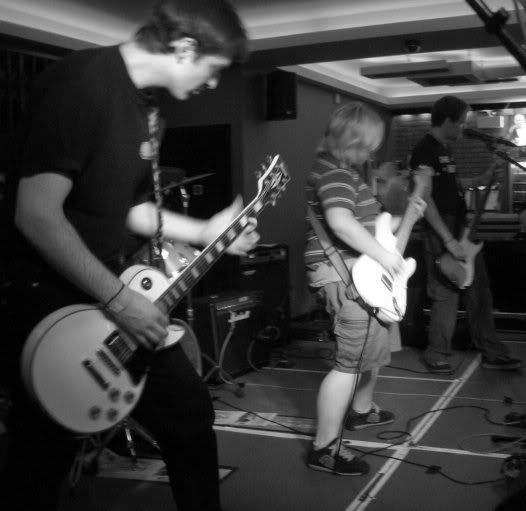 I have a habit of handing my notes around the onlooking crowd to some unwitting suspect and get them to write their thoughts on the band; it's a coward's way out of writing bad things about a performance when you can refer to someone else's comments.
That comment was: 'Alright 'til the bitch started singing,' my sentiments, minus the bitch bit weren't too far from that. Musically after the first couple of Iron Maiden induced numbers, the tempo was raised and the delivery was crisp, with coarse, racous, chunky throbbing riffs. Back to the vocals; now I'm no Pavarotti, in fact I released 2 albums and 5 singles with a voice of no distinction, and it was occasionally on the receiving end of a live reviewer – particularly on songs where I was playing bass at the same time. I think (although I'm often wrong) that unless your name is James Dean Bradfield, playing an instrument as well as singing is a fucking hard thing to do. It detracts one from the other unless you're a complete natural or extremely talented. The Mephs on CD have Jess' vocal delivery to a much higher standard; but when you're up there playing and singing away I guess the voice ain't gonna get the 100% commitment it can in a studio.
My word I talk some shite…!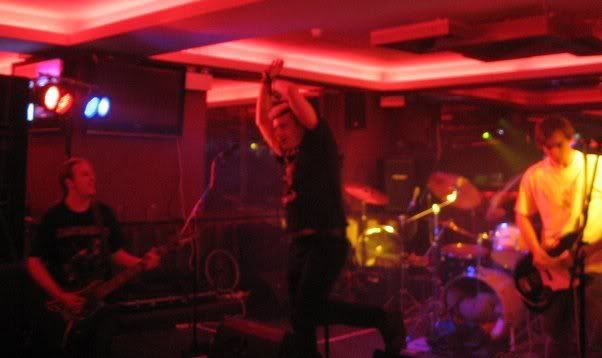 'Come on you bunch of lazy bingo playing bastards' – screamed the excellent frontman of The Enigma Code (pic above). Now, this is where my theory comes into practise. Mike doesn't have a guitar to hinder him, yes, he can't sing, but what he lacks where Scott Walker succeeds, he makes up in raw energy and an enthusiasm very similar to Spike from Blitzkrieg (they look like they were spawned from the same loins too!).
Here's the dilemma again though! Without a second guitar, Enigma Code's songs lunge downwards when the guitarist (Martin?) ironically sporting an Iron Maiden t-shirt – plays a solo. The simple answer for them and The Mephs is employ a 2nd guitarist!
The murmer was that these guys were a little primadonna-ish during soundchecks, but at the end of the day the Rhyl audience (another big one) demands to be entertained, and thankfully, every now and then we thoroughly are.
Playing songs off their 'Between The Lines' CD, 'Lies And Glory' is dedicated to Ena Sharples, 'Does anyone remember Ena Sharples off Coronation Street?' – hell yeah, that hairnet did it for me everytime. What a bicycle wheel and a bin as stage props had to with anything eluded me, but hey, what the fuck.
Bar the uneccesary cover about 4 songs in, it was the UK Subbed 3-chord punk progression that would've had Dave Cox dancing in the aisles had he been here. They wrapped up with 'Brain Dead' then 'Insanity' – there's a theme running here…
When a band from Prestatyn go on tour, it usually means a gig in Gronant Stadium followed by a date in Talacre Arena, culminating at Pearl's Court in Ffynnongroyw. But for Plantfoot (pic above), they took the unorthodox route of playing London and other cities..! My Word… Guitarist, sometimes bassist, sometimes singer Tom Carroll was eager to point out they had new material in the form of the song 'Stench of Gusset' which sounds like a good version of The Fall, and owes a lot to Mark E Smith. The vocals – those damn vocals again – are shared, although they both sound the same. I think I mentioned last time that it was hard to pigeonhole Plantfoot.
Their songs would often border on the bizarre, some are excellent, some are potentially excellent. 'We aim to please – sometimes we miss.' They'll jump from rock'n'roll to a sudden stop / start showpiece albeit like a very entertaining compilation LP.
Titles such as 'Pastor in A Plaster Sauce' reveal tinges of smoking too many Neil Young albums at Uni – let's roll another one…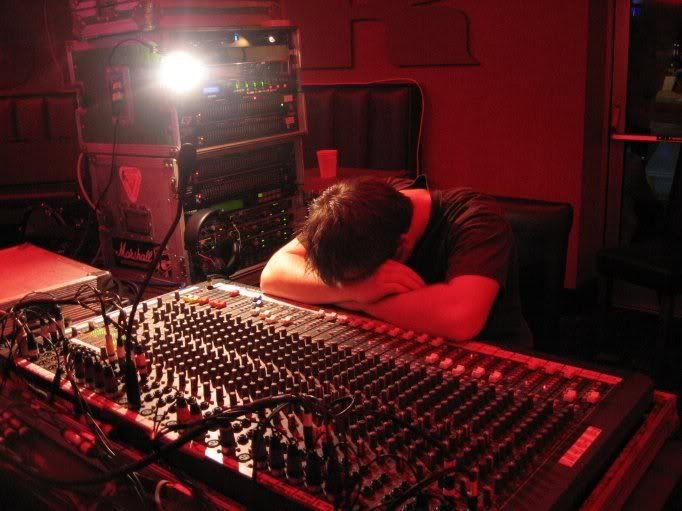 That good eh..?