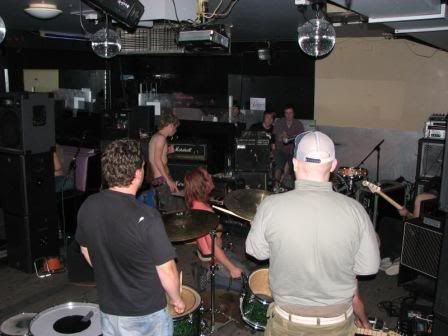 Looked like an interesting selection of bands so headed over yet again to Rhyl, jeez I'll be turning into a native. Most of them must have been elsewhere watching the home team as it was pretty quiet and bands still faffing around upstairs till getting on for 10, so chatted with Dave and Ste, seemingly recuperated from the hectic and successful Dirty Weekend. Eventually let upstairs met the hot and starting to be can't be bothered Mr Rastin explaining they'd had to borrow half of the Dudley's PA and the power had blown repeatedly, evidently we could be in for a long night.
When I'd seen the flyer with the description of Sunshine Republic referencing the noise avalanche that is Sunn O I'd thought "they'll have a job pulling that off with Blu's limitations" but it was certainly going to be interesting finding out. At first it looked like they were still organising the playing area but actually random bits of kit scattered around the place were integral elements to the orchestra, made available to random guests. What was unleashed was a backs to the crowd, 20 minute noise epic onslaught of warped feedback noise, guitar abuse, rasping vocals, and more drummers than you could shake a stick at. They achieved more dynamics than Sunn O, meeting a tribal feel that you might associate with some Neurosis, but above all it was gloriously harsh. Folks were fair stunned, feeble joking attempts at dancing, even the bouncers visited to see what trouble was afoot, and they highly offended the tuneful sensibilities of Mr Cox. Which I'm sure was at least part of their intention.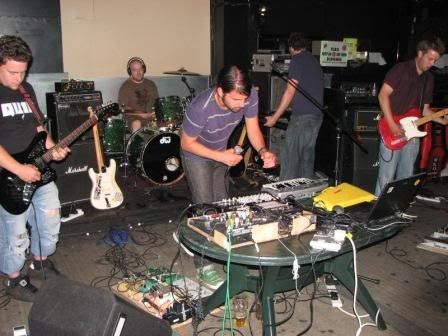 Brenda had a similarly cluttered stage set up, with enough pedals and gizmo's to bring a tear of joy to a Mr Black's eye. However, they displayed a much more controlled and tuneful approach whilst still including an experimental aspect. Having had decent supports with the likes of Cult of Luna it was easy to recognise elements of that bands more recent, cleaner sound in their material but largely through the singers strong, clear voice they extended further into almost quirky inde pop territory from a core of alt-prog metal. They created additional layers of vocal and sound loops through the table top of effects at the front, but personally I thought this seemed excessive given their existing strengths. They dipped into some really thrashing heaviness at times, defined by the lower end grind of a 5–string bass but the majority was more universally accessible if somewhat longwinded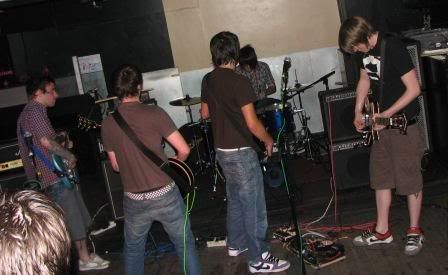 I hadn't seen Capguns since the Townhouse debacle but was pleased to see they were still getting around, down to London etc., and with an imminent new ep release. I'd thought then that it was a good sign that local bands were also developing in this new progressive metal style but the only true test is to take it further afield and to compare how it stands up to others working within and around the style. They started with a faint, droning intro before moving into layers of guitar, and rising, insistent rhythms from the drums. Vocals were very occasional and largely raging. Plenty of invention had been put in the drawn out structures, and interesting to see two basses to match the two guitars. Surprisingly a Godflesh fan with a semi acoustic one (bowed at times!) but even with the two I did feel they lacked in the overall sound and they suffered collectively for it. Whilst similarly the band would descend into thrashing and pounding sections it never struck with the same heaviness I would have anticipated, and so the light/shade mix in the structures became a bit blurred and made the songs drag at times, seem overblown. It's no different to what has been perceived in the leading bands in these styles, so maybe it's me being greedy expecting some of the visceral punch, death metal style, but that's what you got with stuff like the early Cult of Luna. To me this clean style has been flooded with bands making it all the harder to distinguish anything fresh or different and it's a fine line between epic construction and excessive noodling, and questionable if it makes for an interesting live show and not for lying in bed stoned. Listening to the kindly donated track from their new release you do get a better appreciation of the shifts through the tune but live it may require more luck to hit the spot or patience in getting there, still interested to see how they go.