(review n pix by neil crud)

For the second week running now I biked the 3 miles to Rhyl, and more stupidly, the 3 miles home at midnight with no lights. Nearly hit someone on the cyclepath who had the same idea. You can just imagine the headlines: DRUNK PSYCHOPATH ON THE CYCLEPATH.
Anyway, a busy night saw Junebug's Ralph Latham begin proceedings. It should've been the whole band but they were minus a drummer – fucking drummers – wankers the lot of 'em! Poor Ralph, devoid of a backline and his brother Guy duffing people up around the venue has to carry the can and delivers a half hour of strumming. He should've been a midwife as his delivery is perfect everytime. The excellent Mr Sunshine song does bring on the sunshine as you take a dip in Sweet Mellow Water. The only sticking point with Junebug / Ralph is they should be shot for writing a song called 'Abergele' (Hot dog, jumping frog, Ab-er-gele). Someone shouted 'Do you do Mochdre?' and maybe the B-side is 'Pensarn'.
I don't really get Anders – they are like Steve Rastin's summer band – and they pop back to Rhyl each end of term time to play (it must be 4 years running now). Despite some catty remarks muttered towards the stunningly gorgeous Helen Anderson, the general consensous was of approval. But something does nag me that Helen would be more suited – or is more suited to just herself and an acoustic guitar rather than a full band.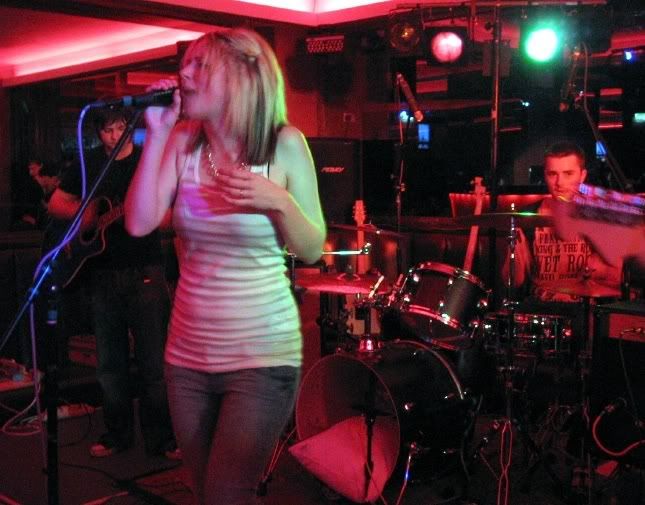 Networking is ace, there are few boundaries these cyber days; bands from Colwyn Bay have a following in Rhyl and have fans from other bands like Der Bomber, Gintis and Homespun. People from Holyhead and Bangor travel to Billys to experience the Wednesday night phenomenon. Like I said – it's ace. I was thinking how cool The Racketears look, but my second thoughts are they look like a right bunch of cunts, cunt enough to be wearing matching 'I'm a Cunt' t-shirts!
Birthday girl Steve Sync immediately and persistently said 'Killers by numbers' and I continually corrected him that The Racketears sadly pre-date the yanks and The Killers are a band that took all their influences from the scene that The Racketears spawned from.
The set was full of spot-on stuff, have they played In The City? They should. Also London is calling you boys – off you go now…
Although cunts, they are cool as fuck – so cool they could shit Cornettos. With a new drummer in tow (not stolen off Junebug), their old drummer looked on with mixed feelings – family and work moved him out of the area.
Sync was still gassing on about The Killers, then he finally concluded that singer Tom Edney with his Harry Potter looks (!) could stick a bunch of rhodedendrons in his back pocket and they'd be The Smiths. He could play the ukelele and he'd be George Formby or he could shove a turkey twizzler up his arse and be Bernard Matthews – meaning you can't really categorise The Racketears. Sync concluded with an appreciative nod and a 'they are good', which is the best admission you can have off anyone.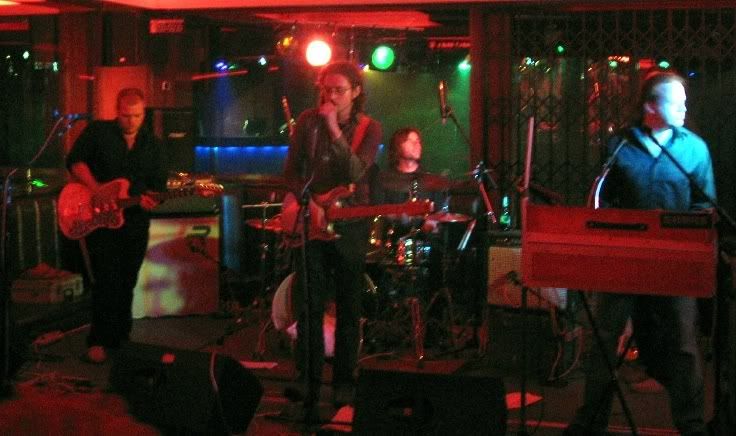 Hit after hit was played – 'The Debate' (I'm in Shaun Goater, ex-Man City), the excellent 'Spin Spin Hamster' (lends itself to Automatic's 'Raul'), 'Out of The Loop' (we crossed the border on the 55) – are they singing about the A55? Have they been taking Abergele lessons off Junebug? Will that 100 mile stretch of tarmac and concrete be the Route 66 of North Walian folklore in passing decades?
There was a lot of new stuff as well as the classics, and an improvement on before – if that's possible.
I've always loved The Racketears and now I love them more. There are So Many Faces I want to swap fluids with…!
[There was a podcast by Martin Green Dragon featuring live tracks from this gig – but it's sadly disappeared off the net]