FROM TEACHER TO BANDIT…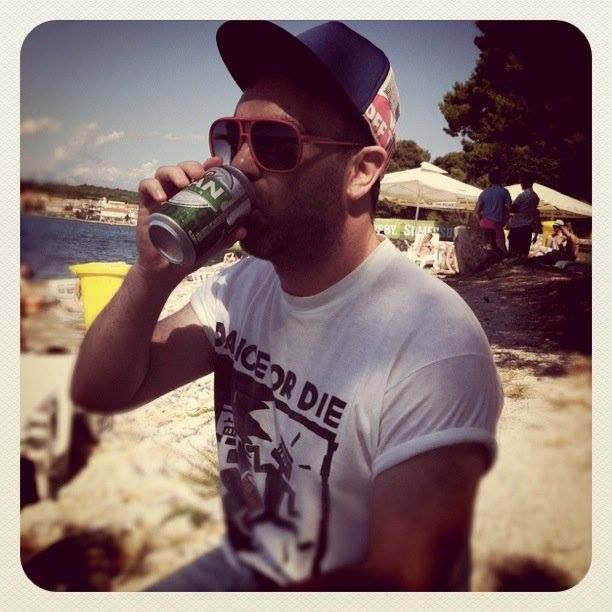 When most of us recall our schooldays, we think of teachers as ancient as dinosaurs, wearing the obligatory tweed jacket and corduroy trousers combo, complete with leather elbow patches! Very few of us can remember a hip teacher who's all gened up about the music scene, and who moonlighted as a DJ.
But Ian Cottrell, TV presenter, DJ and all-round friend to the stars, started his career as a teacher in a Valleys' secondary school before moving onto becoming a full-time television presenter with S4C just under three years ago.
He now presents the twice-weekly strand Bandit on S4C Digital, which is all about the music and youth scene in Wales, and he's all set to present the third series of the pop video showcase, 4trac to be broadcast every Sunday morning at 11.30am from 7 April. For many music fans, the 4trac series is regarded as must-see TV, covering a wide variety of acts, ranging from rap to pop to rock, and sees up-and-coming Welsh bands sharing the screen with some of the more established names.
But how did an English-speaking Welsh boy from Connah's Quay become one of the leading authorities on the current Welsh music scene? Ian, a former pupil at Bryn Diva primary school and the bilingual comprehensive school Ysgol Maes Garmon, started off as a teacher at Aberdare High School. Perhaps not the most obvious of routes into television presenting, but one which proved extremely valuable for the Cardiff University gradaute According to Ian, "I loved teaching, mostly the interaction with the kids – and the Aberdare kids were the best!"
But the music career had taken hold of him way before the teaching. A member of the popular group Diffiniad – an anarchic gang who were "cocky, didn't care, didn't play any instruments, and danced like maniacs on stage !" Wales' answer to Bez from the Happy Mondays was then invited to guest on S4C programmes such as Syth, Bybl Gym and Garej. And with the arrival of the digital channel came the twice-weekly magazine, Bandit, and a chance to present the series.
When he started working for Bandit, it was the beginning of 1999, and slap bang in the middle of a school year for Ian. This meant being a full-time teacher, plus getting home from school every Tuesdays and Thursdays and heading straight for the Boomerang studios to get in front of the camera. But since the summer of 1999, he's become a full-time presenter and hasn't looked back.
Ian is also a DJ, and has been hitting the decks for over ten years. He can currently be found every Saturday night playing a set at Clwb Ifor Bach in Cardiff, whilst Sundays see him laying down some tracks at the capital's Europa Café Bar. He loves DJing for the same reason he enjoyed teaching – the interaction and the instant impact that it has. "There isn't the same thrill in presenting to a camera as there is to DJing or teaching, although saying that, I do love what I do. It's especially good when people come up to you on the street saying that they really enjoyed a certain band that we featured. It's those times that you think – 'yeah, we're getting it right'."
4trac
Sundays, 11.30pm, S4C
IAN – AND HIS LOVE FOR SOUL
Talking to Ian, his love of music soon becomes apparent. He says that one of the earliest influences were the seventies soul and disco which his parents used to play, "Mum and Dad loved disco, groups like Chic especially, and producers like Nile Rogers and Bernard Edwards, and of course Quincy Jones." But doesn't he ever get bored with it? Never, according to Ian. "Music is how I relax. There are a few places that I go to on a Friday night especially, who play a lot of US House, and that's my night off."
IAN – ON MAINSTREAM POP
So can someone who likes a more alternative scene, bring himself to play Steps during a set? "Of course. I like to mix all kinds of music. Besides, I'm not there to push the music that I like on the clubbers. You have to gauge your audience, and if you get it right you can get them up, then bring them down for a while, before taking them back up again. It's a great feeling. Although there is a saying in the industry that a DJ's job is '75% entertainment, 25% education', so yes, I do like to slip a few underground tracks in that haven't been released yet."
IAN – ON THE WELSH MUSIC SCENE
But how does Ian really rate the talent in Wales at the moment? "Well, it's a bit of a Catch-22 situation. Wales is unique in that new bands are in the spotlight right from the start. In England, bands are given the chance to work the circuit, teach their craft and have stylists advising them on image before they get any national coverage. Saying that though, more bands need to be more professional, but that comes from performing live and getting the publicity. The most important thing is playing live. The best bands, your Big Leaves and your Anweledig, communicate with their audience and can hold their attention for a whole night."
IAN – ON UP-AND-COMING TALENT
So who does he rate as prospects for the future? "Well, it's nice to see Pep Le Pew finally getting some recognition – we've been talking about them right from he start. I think that Malarki, who are quite similar to Moloko, have a brilliant sound, and bands like Mwsog are just amazing live."
Copyright – S4C – Contributer: Caron Wyn Edwards