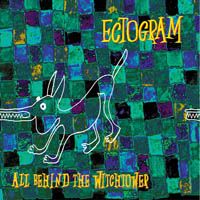 IT'S a cold. damp and miserable morning on the Northumbrian moors in the year 122. Shards of ice-tipped rain dart horizontally into the eyes of the gathered bricklayers and hod-carriers from Hadrian and Sons Builders Ltd. Apart from the inclement weather. something else is distressing the assembled builders as they sup their nettle tea, ogling a Boadicea centrefold carved into the Daily Tablet.
"Jump to It you lazy curs, get to work … It's quite a big job this and we need to get started! " hollers the foreman, scratching a prehistoric bum cleft visible between his football tunic and leather shirt.
"But guv, I fink we forgot summink."
Everyone peers at each other through the vicious sleet for a few seconds trying to work out who has forgotten what.
"It's the bricks. guy. we forgot the bricks!"
"..Bugger!"
And, just as Hadrian's men couldn't build their wall without a pile of bricks. so it proves impossible to build a radio programme without records.
I have alluded to the traditional downturn in decent recorded output during the Christmas period a few times in recent weeks. This year. however. it's been like searching for waterfalls in the Kalahari. Imagine my delight, then. when a veritable Pacific Ocean of a record dropped through my, letterbox.
All Behind the Witchtower is the magnificent second album from arch Welsh psychedelicists Ectogram. If the Manic Street Preachers, Catatonia and Stereophonics are the immense, well-trodden mountains that dominate the Welsh musical landscape, Ectogram are the intricate, hidden, magical grottoes and caverns that spiral below the surface.
Coalesced around the talents of Ann Matthews, Alan Holmes and Maeyc Hewitt, Ectogram cannot help but invert and twist your expectations. For a start, like the Doors, they are a band with out a bass player. This is most apparent live when the absence of a gelatinous bass throb frees Ectogram to travel in a million and one spidery directions that other bands weighed down with a bass player could not reach.
Ectogram's idiosyncratic disregard for the cliches and idioms of rock'n'roll was exemplified on their debut album 'I Can't Believe It's Not Reggae'. NME described them as being "the in sound from way. way out – and Mojo stated that "reggae is just about the only, thing this intimidating Krautrock-folk crossover definitely isn't."
The most striking aspect of 'I Can't Believe It's Not Reggae', and a hallmark of Alan Holmes' collaborative project The Serpents as well, is that such disparate influences are taken in a seemingly chaotic manner. but always put together in a cohesive way. The debut album and the preceding EPs secured the band an international reputation that has led to support slots with such renowned bands and musicians as Pavement, Faust and Beck at the request and instigation of the headline acts themselves.Their relative anonymity in Britain isn't about to be challenged by the release of 'All Behind the 'Witchtower. Unfortunately our radio and TV stations and the bulk of our printed media haven't the vision to trumpet anything so subversive or experimental.
The real beauty of Witchtower, however, is that it manages to mix its avant-garde aspirations with a broad-based accessibility. Like the Cocteau Twins. or some of Stereolab's more cohesive moments. there are many incandescent bursts of true beauty on this record that would find favour with the most conservative pair of cars: the initial backwards vortex of 'Herald Speke', 'Cyfan Gwbl's lilting Welsh country and Western, Ann's voice surfing over the top of 'Scratch' like a silver dew.
And then. to finish the album off, the epic 'Spitsbergen 5' which is about as accessible as a paddling pool full of ravenous piranha. but totally magnificent. It's the sound of fractals, Tom Verlaine jamming with Schoenberg in the middle of a thrumming factory. All Behind the Witchtower is the first great album of the new millennium and will be released on February 21 on AnkstMUSIC.
Now, can I have some more bricks like this one please?
(Adam Walton, Daily Post 07.01.2000)