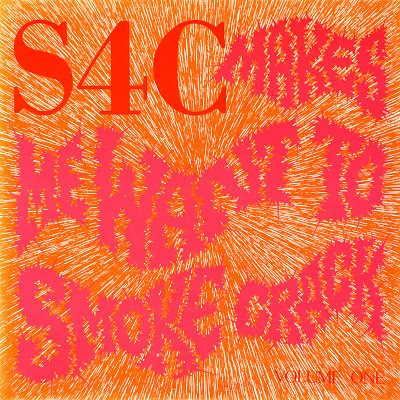 [taken from Turquoise Coal]
S4C Makes Me Want To Smoke Crack was a 7″ EP that came out in early 1995 on the North Wales based Atol label (serial number ATOL 02). The EP was pressed in a limited run of 500 copies and is subsequently very difficult to find and much sought after, largely due to the subsequent rise to stardom of Catatonia, whose featured track Cariadon Ffôl is unavailable elsewhere. In fact, the only one of the four songs that did subsequently appear again was Rheinallt H. Rowlands' Charles Bukowski, which featured in an extended version as the (sort of) title track of Rheinallt's second LP 'Bukowski' in 1996.
Paladr changed their name to Topper shortly after the release of the EP and went on to release many fine records under that name, although this remains their sole appearance under their original moniker. Ectogram's uncharacteristically gentle Gwagle gained the group record company interest from Radar Records, who soon changed their mind upon checking out the group in concert! The song was re-recorded in a very different arrangement for the group's debut LP 'I Can't Believe It's Not Reggae!' in 1996, the LP version featuring a piano solo from renowned producer Gorwel Owen, while this version has an (uncredited) piano part from Dewi Evans, of Rheinallt H. Rowlands fame.
A second volume appeared in 1996 on the Ankst label, with further contributions from Rheinallt and Topper, alongside tracks by Melys and David Wrench. This second volume is much easier to track down and appeared on both 7″ vinyl and CD.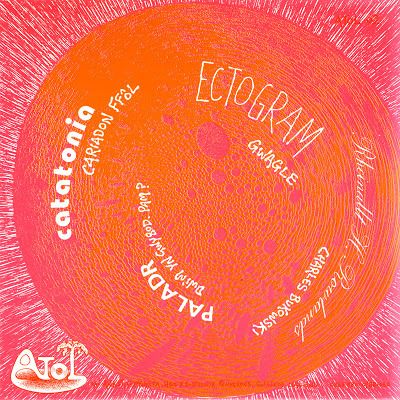 Here's what the NME had to say about the record at the time:
Various: S4C Makes Me Want To Smoke Crack (ATOL)
As a wise old owl noted just the other pint, 'tis a thin line between John Barry and Barry John. The cunningly titled "S4C Makes Me…" is in fact a four track effort from those extremely nice people at Ankst Records in Wales and thus – leaving miracles aside for a second – features four bands singing in the language God tossed upon them.
To wit, the normally boisterous (see drunk) Catatonia are caught in a relaxed, almost choral mode. Ditto for Ectogram, stripped of their rock edge for an eerie, beatless few minutes. Paladr, meanwhile, are all feisty melodies and stumbling enthusiasm in a post Gorky's Zygotic Mynci (good grief!) kind of way, and…
…Shiver the timbers of Sherwood Forest! For then we get one Rheinallt H. Rowlands and his quite insane paean to Charles Bukowski. See the gleaming teeth! Check the beaming bowtie 'n' tuxedo set! Feel the vibe, which is Las Vegas transplanted to North Wales! Charles Bukowski is cheesier than – yes – a mouse's larder and hence exactly what Bryan Ferry should sound like in 1995.
Gwyrthiol, in any language
(N.M.E – Jan 1995)
…Melody Maker were less kind:
Various: S4C Makes Me Want To Smoke Crack (ATOL)
Does Beck ever sit in front of the fire at night and say to himself, "What kind of monster have I spawned?" His MTV double bluff gets appropriated for an EP featuring Catatonia, Ectogram, Paladr and Reinallt H. Rowlands, all flying the flag for that idea someone once had about Welsh bands saving us from spiritual penury. Catatonia are most convincing with their "Cariadon Ffol", a title that translates – a bit too pointedly for my liking – as "Foolish Lovers".
The other acts, sorry to say, are poo the size of continents. Ectogram even come up with a drumless track called "Void", conclusively proving that Welsh goth ambience isn't any more useful than its English equivalent. I guess ordinariness is a universal language.
(Melody Maker – Jan 1995)