Anxiety / Climb is released today on the Sons of Selina's own Secrets of Sound label (SOS 001).
1000 copies were pressed, but only the first 25 come with a picture sleeve and white label, thereafter the single comes with a stamped label but no sleeve!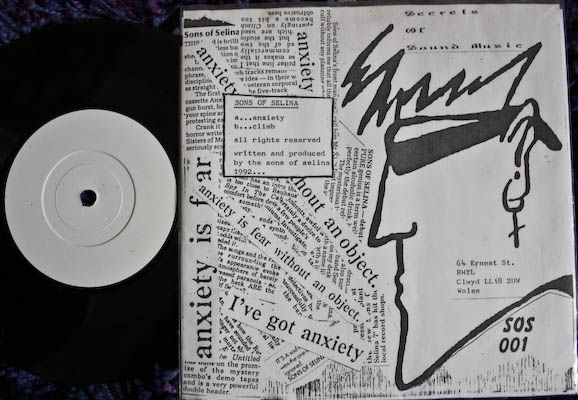 Review by Discogs – Neither side of this single is titled, although one side does have a logo printed on it. So I take this as the 'A' side. The music is a medium-fast-paced piece of post-Punk Punk spliced with the wilder, more expressive electronics found on early records by people like MODERN ENGLISH & REMA REMA, although the actual music here has the power of early Punk, the tunefulness of Power Pop & the attitude of hefty Cyberpunk. There's even a thin vein of traditional music leaking through at one point. The music fills a room even at low volume. I would have played the groove off this a decade ago, and still play it a fair bit now – hard, large & heavy.
The second side shows a lot more subtlety to their music – there's plenty of space & interesting twists of electronics which fill the void. The chorus kicks up a cloud of dust, it's Punk bones showing through the skin once or twice, but it's heart in the New Wave Rock arena. When it gets energetic, it gets exciting the blood pumps faster.