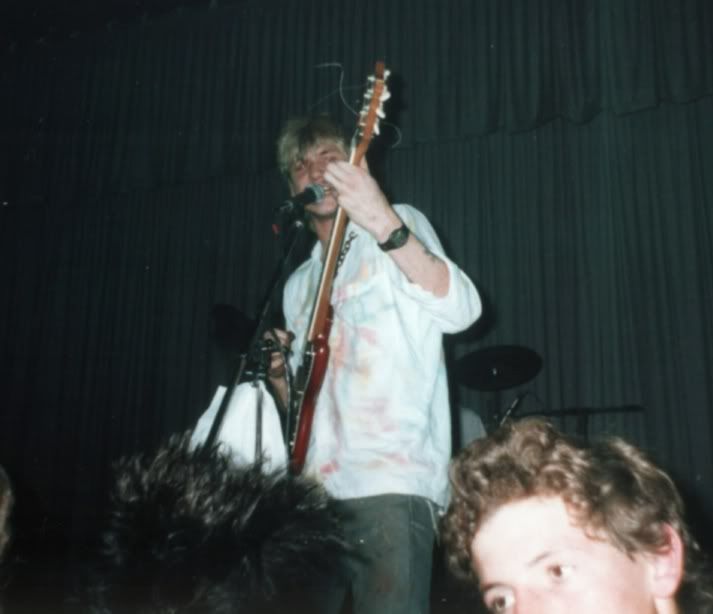 (from This Patch Of Land)
There was trouble as soon as the band arrived as the landlord had received a visit from the police over 
posters 
that Cumi had pasted up around Prestatyn depicting 2 sets of teeth, one perfect set with the caption 'before', & the other set all smashed headed, 'after'. The poster also stated the potential punter to 'Be there or we'll boil you to death in a vat of urine.' Thankfully Neil had done some other posters which were never used which he showed to the landlord, & explained that another local band called HEROES ON A BEACH had been putting posters like this up in other towns to try & get 4Q banned.
DAMM YANKEE went on & went down badly, this was Dean's home town but the punters didn't like it & the landlord, who seemed to want to run the show pulled them off after 35 mins.
In front of a packed house consisting mainly of trendies who knew nothing of life other than the TV & the pub, 4Q blasted (literally) into their songs. Half the crowd loved the stuff but the other half hated it, sadly the landlord consisted of the latter half.
There was an angry feeling to this venue & the band reflected that feeling, & when the abuse started at the end of the 1st song 4Q did nothing to diffuse the situation & when someone shouted 'f*ck off' , Cumi replied; 'Why don't you f*ck off.' Only this time he & the band really mean't it.
After 7 very tense songs, which had the rival factions in the audience at unease the DJ put a record on. 4Q wanted to play more , as did their followers, but the DJ turned the music up louder, then when Cumi started asking if the punters wanted another song the DJ over the microphone shouted; 'Just f*ck off will you!' Then a bouncer appeared & told the band that if they didn't get off the stage he would mash their heads in. Self preservation prevailed & the band took his advice.
Just to round off the evening 4Q phoned Prestatyn police station after they had left to say that they were the Royal Victoria Hotel & they needed assistance because the punk band 4Q had started a riot there.
| TRACK | LENGTH |
| --- | --- |
| Nein Werk | 2.25 |
| VD | 1.46 |
| 1984 | 2.37 |
| I Hate TV | 2.40 |
| Dope Fiend | |
| Twisted Tabloids | |
| Jerk | |
4Q LINE-UP
| vocals | guitar | bass | drums |
| --- | --- | --- | --- |
| CUMI PANTS | NEIL CRUD | WAYNE THE BASTARD | PAUL PUKE |
LETTER PENNED TO THE RHYL VISITOR BUT NEVER PUBLISHED (given to me by insider)
I was drinking at my local last weekend & for the 1st time witnessed 4Q - a much talked about band in the North Wales area.
The 1st band were called Damm Yankee who were just a cacophonous barrage of boredomness. They had no idea of timing & they played semi-punk songs & failed dismally.
4Q - they sounded so powerful I was taken aback.  I've heard so many stories about them being 'a mess of noise' & I was astounded by the pure skill & speed of their songs.
The only drawback with 4Q's performance was that they seemed intent on upsetting the 200 strong audience, & at every opportunity the singer & guitarist tried to abuse someone.
Her Majesty's police force paid a visit after a hoax caller said that 4Q had started a riot at the pub; this of course was untrue but the police did take an interest in some posters advertising the event which they thought were in bad taste.
My advice is, go & see 4Q if you get the chance, but hurry, from what I've heard they're banned from 90% of North Wales venues, which now includes my local in Prestatyn.
A.BRAITHWAITE