A warm comfortable sleep put us in good stead for the trip from Manchester to London. Due to the number of weak bladders on board the Anhrefn tour bus, we had to stop at 429 motorway service stations and also had a chance meeting with touring Dutch hardcore punks BGK. Arriving in London it didn't take a genius to realise why I live in Wales! Too many people and not enough sheep ha ha! We first stopped at Kevs house for some food. the Llwybr Llaethog maestro was very hospitable and said he'd see us later at the gig.

We found the Greyhound in Fulham and the bands started setting up etc. I stood on the stage and marvelled at the history of this venue, of the countless punk bands that had graced this place, that I had only ever dreamed of seeing as a teenage school kid clutching his copy of Sounds, and here I am standing on that very stage at the age of 20… Ok, enough of the dreaming now Welshboy, you're not on stage tonight, you're reporting, now get your pen and paper out.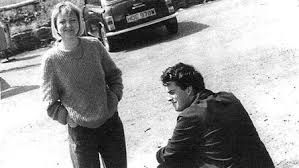 Sitting down with David from Datblygu I thought I'd get an insight into what made this complicated character tick. Hailing from Brecon and basking in the interest and publicity their début release has created you would think both David and Patricia Morgan would be riding on the crest of a wave. 'Hwgr-Grawth Og' came out on Rhys' Anhrefn Records and immediately John Peel picked upon the simplistic yet extremely catchy Casserole Efeilliaid (The Casserole Twins)- airing the track numerous times on his Radio One show.
Datblygu formed in 1982 out of what David described as 'pure hatred for what was being expressed by Welsh rock and the Welsh language in general.'  They have only played around forty gigs in the last four years (only four in England, including last night and tonight) as David explains, 'We tend to limit our activities because we dislike the mechanical formula approach of most groups and would never become a part of that. We never play the same set twice, so when we do play concerts we make them as interesting as we can for ourselves and hope that interest is reflected on anyone who can be bothered to turn up and see us.'
I asked him how he felt about Datblygu been toted as Wales' answer to The Fall, 'It is not a reasonable comparison, but rock journalism has a severely limited vocabulary of description, so if hacks describe us as Fall-like, they do so for the sake of convenience. The Fall are probably the most innovative rock group of the last decade, so it's quite a compliment to be compared to them – that said, the comparison isn't accurate.'
He continues, 'The Fall are an influence, but so is everything  you see and hear. Datblygu just do what we do, but nothing is without it's influences. We strive for originality, not to derivative of anything else. One reviewer said we were like Kraftwerk with a hangover, which is fair enough.'
Anhrefn's bassist-manager-svengali, Rhys Mwyn released the EP on Recordiau Anhrefn (Records), and in a Crass style, only releases bands as a platform for bigger things, like a youth opportunity programme of nascent bands, so this in effect leaves Datblygu without a label – what are their plans for future material? 'I wouldn't sign to a major label and in 1987 I doubt if we'd ever be approached to do so anyway. I'd only consider an indie label if we didn't have to compromise on our music or the Welsh language. Record companies generally have one thing in mind; they make, market and sell records as if they were chocolate bars. Factory and Rough Trade have hardly taken a risk between them for five years. Recordiau Anhrefn was totally different and we'll probably be a part of whatever succeeds it, we've been working with Rhys Mwyn for four years and that's bound to continue in some capacity in the future.'
I asked David what was meant by the slogan 'File Under Non-Hick' on their EP, 'We haven't personally been called Hicks, but the way the music scene operates, anything outside hip trends or isn't by a group from Berlin, Liverpool, Manchester or London is going to be seen as a Hick thing. Mind you, most Welsh rock records traditionally deserve to be seen as Hick, we just wanted to state our independence.'
Are you not carving a channel of isolation? You hate the traditional Welsh scene, you insist on only singing in Welsh and you hate gigging! 'We've played with English language bands once or twice and would gladly do so again, there's no problem with that aspect at all. I like gigs themselves, but get pissed off by things like ten hour journeys, moronic PA people, being treated like shit by venue owners, sleeping on floors and losing money doing them. They're often good fun but are invariably overshadowed by hassles.'
I may have asked the wrong question or maybe time was running out as Datblygu were due on stage in 15 minutes, on asking David if he was looking forward to performing tonight, he stood up and walked off…
Fifteen minutes later Datblygu were assembled and ready to rock, well, quiver would be a more appropriate word. Their act ran as smooth as the proverbial baby's bum. As previously promised, a slightly different set to last night and they went down well in front of a London audience with a strong ex-pat Welsh element to it. On introducing the final number David said that this would be their last song ever… I hope not. They were even asked back for an encore, which I later learned was the first time ever! this was sadly, but predictably declined.
Anhrefn then took over and the double ignorance of the cockney sound engineer shone through when he announced, 'Ladies and gentlemen, please welcome Daiblugoo'. Sion laughed and said, 'Actually we're called Duran Duran.' I noticed the band seemed tired tonight compared to Manchester, maybe the excitement of it being St David's Day had taken it out of them, or the shared driving down to London and the prospect of a gruelling six hour slog back to Bangor immediately after the show. They gave the paying punters all the faves, including Defaid (Sheep) which was the most requested song over the two nights. Finishing with Action Man and encoring with the eight second long Nos Da (Good Night), Anhrefn then finished their drinks, sold some records and swiftly rode off into the night.
Set List: Cornel, Dagrau, [unknown], Nefoeddun, Defaid, Dyfodol Disglair, Dawns y Duwai, Action Man, Nos Da