Myself and Wayne have so far sold nearly a hundred copies of Crud at 25p a throw, and got reviewed in the local paper (North Wales Weekly News) and on BBC Radio Lancashire's 'On the Wire' programme where the reviewer Fenny, described it as 'a little pearly.'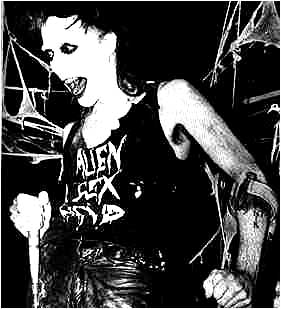 Wayne, Edi, Myself and Uncle Bowler got on the train went to see Alien Sex Fiend play a Valentine Day gig at The International in Manchester this evening after being convinced by Dae Goth that it would be a worthwhile trip. It certainly was because I sold all the remaining issues of Crud at the gig and met Jill The Ripper who became a great mate and a great help with the making of Crud 2. The gig itself was quite an experience, the support act was a solo rapper whose name I have long forgotten. He was awful, coming out with rubbish like, "I'm a sex machine." Being punk rockers from Wales and let off the leash we stood right at the front and showed him our displeasure at having to be aurally tortured in such a way. The punk way to show gratitude or disgust to a band is the same in both cases; we gob at them! And we gobbed at this rapper and made all the various gestures that go with it. I was so pissed off listening to this rubbish that I climbed over the barrier onto the stage and walked past the rapper and towards the back. I was soon accosted by a bouncer and guided back from whence I came. The Crud Crew, as we became known, soon got known around the punk/goth circles in Manchester and it wasn't too long after this gig that a rumour was being spread around about me being a racist. I eventually tracked down the source of this to an alternative clothes shop and confronted him, his name was Seb, a goth who said he was half Pakistani. He told me that I was spitting and swearing at a black rapper during a gig. I told him that was correct, but why does that make me a racist? Because he was black, came the reply. Now hold on a minute! My actions were justified by the fact that this was a rapper spurting his bullshit at a punk concert, it didn't make a jot of difference whether he was black, white, pink or blue, he would have got the same treatment. In fact, I would have been a racist if I declined to gob and swear at him on account of his colour. Racism is for narrow minded bigots and school playgrounds where the kids don't know any better. Seb agreed and apologised to me and his gothic clothes shop became a regular stockist of the forthcoming issues of Crud.
After the gig we had a 6½ hour wait for the train the following morning, Bowler tried to set fire to a pile of bin sacks in the road for a laugh when a police van screeched to a halt & a load of pigs jumped out & started pushing us around. One of them grabbed Bowler took his lighter off him & tried to set fire to his scarf while he was wearing it! The pigs jumped back in their van & sped off to mash some other punks. We stopped at a chippy and a girl overheard our prospect of freezing on a platform all night and offered to put the four of us up for the night! The offer was very kind but we declined on the grounds that any one female willing to accomodate a group of marauding punks she didn't know must be mentally insane and probably planned to chop us up in our sleep! We found the station & found a mobile temporary-waiting room full of down & outs keeping warm on this freezing night & we tried to get some sleep.