(by neil crud)


It was our first ever sound check before our first ever gig, I had nipped out from work at the amusement arcade around the corner to take this first endearing step in to the real world of rock 'n' roll. We played an instrumental of our best song Nein Werk (we called it that as No Work sounded too clichéd even for a totally clichéd punk rock band). I stepped out beyond the stage area and turned to face the amplifiers, pretending to the other bands and watching crew that I had an air of confidence. The Welsh punk band Anhrefn always did this when they sound checked, so I emulated my secret heroes. I guess they were checking to see what the sound was like, hence the name 'sound-check'. Personally I didn't have a clue what I was listening out for, but to face my own band while strumming my guitar made me feel cool.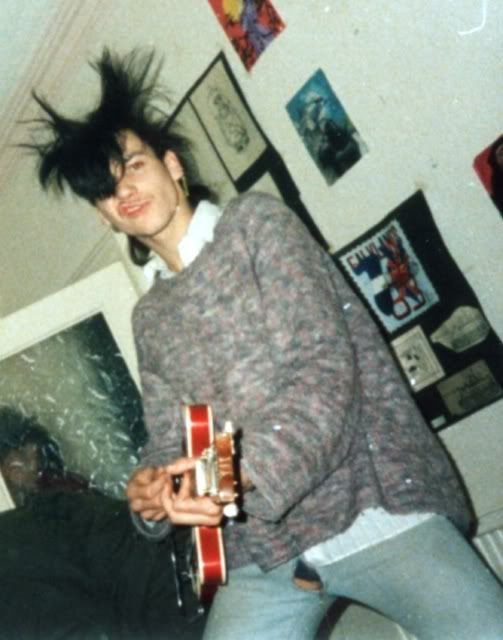 <<Neil Crud at the punks house (c1985)>>
We were 4Q, we were a hardcore punk thrash band, we were going to take on the world and leave it begging for forgiveness. The world never stood a chance.
It was Sunday 12 July 1987 and the local hype surrounding this gig was unprecedented, the juvenile excitement of the band had pushed us on a relentless campaign of self-promotion at all levels, from newspaper coverage to graffiti.
There was no irony in the fact that it had only been a mere seven weeks since we first picked up our instruments and on this day we were about to play our debut gig. It was maybe seven weeks too late to be totally punk rock, for if you read the history books, the now legendary Flowers of Romance performed at the 100 Club in London barely rehearsed, made an unholy racket and the members went onto the dizzy heights of stardom.
Perhaps The Imperial Hotel in Colwyn Bay lacked the same prestige as The 100 Club, but it was a starting point and twenty years later there were a few comments left on Internet message boards that 4Q were 'fucking legends.'
We spent the day rushing around reminding people that tonight is the night and conjuring outrageous things to do during the performance. The Scraps were headlining, they were an anarcho-thrash band from the northern industrial region of France, and on a poorly organised UK tour. They turned up at the amusement arcade in mid-afternoon and vocalist, the peroxide David Charange almost immediately got into a fight with one of Colwyn's smatterings of dickhead skinheads. I ushered him away from the trouble and pointed them in the direction of the venue.
Seven weeks prior to tonight's main event we had our first rehearsal; it was at Liz's flat, she was always good to us and we always felt bad as we knew her boyfriend Gwyn would shag at least two different girls a week behind her back, but he was a mate and she was a mate.
The first practice was diabolical, we just made silly noises with our instruments and looked sheepishly at each other, I somehow ended up playing guitar after Wayne had invested £90 in a bass and I'm surprised Paul (the only musician) didn't get up and walk out.
Edi took the bull by the horns, he was very good at starting things, he gave Crud (the fanzine) its name and also 4Q; he grabbed my guitar and strummed a riff using one finger to bar all the strings and sang;
'We're out of tune, we're out of luck – We Suck!'
And that became our first song. I have it on tape and may one day put it online (or maybe not eh!). It was appalling, but we had a start, a point to look back on – Liz's front room today, tomorrow – the world!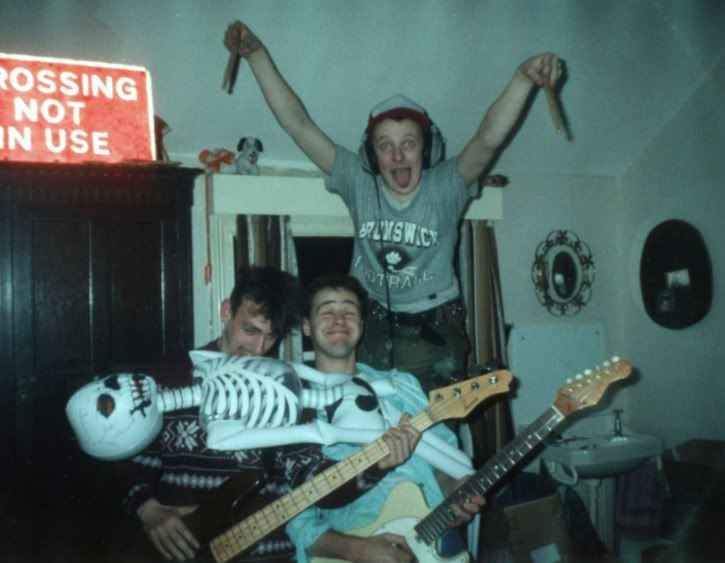 <<Wayne, Paul & Edi rehearsing in Crud's bedroom>>
WE SUCK
We're out of tune, We're out of luck
We Suck
We don't care we don't give a fuck
We do it for us and not for you
So if you don't like it go fuck
We suck
The lyrics reflected the situation perfectly; we couldn't play but what the hell, we were a band who could do as they pleased.
It didn't take me long to decide that if I was going to be in a band then it wasn't going to be just any old band. I wanted to take North Wales by the balls and squeeze very hard. Local bands were all about pub-rock, dad-rock, shit-rock egos and I wanted to bruise all of them. After that first dismal rehearsal I immediately arranged gigs and notified the press, giving us six weeks to learn to play and write songs. Most bands would've done cover versions to see them through but we were so unmusical that we couldn't work out the chords for other people's songs. It was a good six months before we realised that the bass had to at least play something similar to the guitar, or at least be in tune with it, I would write a tune on guitar and then write a different one for the bass for the same song, and very rarely in the same key!
Myself, Wayne and Edi had launched Crud magazine at the onset of 1987, five months later 4Q had formed, and in three years (even if I say so myself) we managed to become a menace and household name throughout North Wales and the North West. Not because of the music, but because of the antics, on and off the stage and a relentless publicity machine. Although I did take some serious persuading to initially form the band by Paul Hulme, who just wouldn't give up. He called at The Prem amusement arcade where I worked everyday and finally convinced me that starting a band would be a good idea.
Paul, born in 1965 was a year older than myself and quite a timid and very private character. He most certainly didn't realise what he was letting himself in for by cajoling me into forming a punk band. Having read the Crud fanzine he must have enjoyed the energy and saw the enthusiasm as an outlet to allow him to regularly play the drums.
He had previously played in Llandudno based goth bands The Dark and Fetish Faye, and with Doug Downes whose brother Rob went onto fame and almost fortune with Then Jericho. The two bands only cumulatively played seven gigs and folklore has it that Fetish Faye's guitarist Nick Berry slid his guitar strings up and down the mantelpiece of some posh pub during a performance, although Paul was very coy about his time with them.
The Premier Arcade, or The Prem in Colwyn Bay was a dead end job only brightened by reading Isaac Asimov books and playing pure punk rock over the speaker system. Occasionally the local glue sniffers would offer their "steal to order" contracts when I required food or new clothes, but that's about as stimulating the job got.
'Go on Crud, start a band, I've got a drum kit.' Paul wanted to get gigging again and was relentless in his quest to convince me it was the right move. Although I had spent hours in front of a teenage bedroom mirror with a pretend microphone or a tennis racket as a guitar, I couldn't play a note. Besides, during those dark years of Thatcherism there wasn't much money to throw around for a 20 year old punk rocker, my £69.03 nett wage packet was hardly going to fund a career in rock music! So I declined.
Paul's persistence eventually paid off; he must've caught me in a good mood, when I finally gave in and said yes.
I was keen not to mention the idea to Edi as ours was an uneasy friendship and the stability of the band would depend on how we got on. Edi was a year and a day younger than myself and, along with Wayne, was very welcoming when I first set foot within the punk boundaries of Colwyn Bay. He, like myself had a very strong personality, which is a recipe for disaster in a band. I let him a room in my flat for a few months but things came to a head during a drinking session to celebrate our birthdays (I was 20, a day later he was to turn 19). Things were getting a little fraught at the party and a game of cards got a bit out of hand when Edi offered Wayne out and the two of them were brawling in the street. I saw red and thought this was a bizarre injustice on Wayne and I kicked Edi while he was down. I felt a double kick in the back and was sent crashing into the road by Dae Goth, who turned me over and said,
'You never kick a man when he's down.'
He was of course right, and alcohol is the bearer of all closing time evils. This was beside the fact that I really liked Edi and looked up to him (I guess always have), he had an obsession with the Dead Kennedys, with Jello Biafra in particular; and after the naïve We Suck, wrote some inspiring politically and socially provoking lyrics. His all too brief gigging career was passionate and incredible to witness. I saw him, just by chance behind me in a traffic jam in 2006, I didn't get out to re-acquaint myself, but he still looked so damn cool. It's just a fucking shame he had to leap off this planet in 2010 (RIP).
The Crud Crew (which is what we called our gang) was close knit and Edi soon found out we were planning on forming a band and immediately appointed himself as singer, it was, in hindsight the natural course to take. So it was decided that Paul was on drums, myself on bass and we voted that Wayne was going to learn to play guitar (he was at a gig in Liverpool at the time and didn't know of his new job). Paul had a Simmons Electric Drum kit; Edi 'found' a guitar and borrowed a microphone. Paul permanently borrowed a PA from another band and 4Q were formed.
Edi became Edi Filmstar, Wayne retained his Bastard surname as did myself with Crud and Paul became Paul Puke.
What about a name? I wanted to call the band The Ruptured Kidneys, and Edi suggested Fuck You but we would never get gigs or get in the papers, which I saw as the main medium of advertisement. So we finally agreed on 4Q after the LP track by the early eighties punk band, Blitz.

Although we were supposed to be the opening band that first night at The Imperial I conned Bangor's representatives The Flaps into doing so by telling them I had to work late. Having promoted gigs in the past I knew that the later we went on the more people would turn up, The Imp was packed out with punks from all over North Wales and it wasn't so much Dutch courage we were drinking, it was more like Scotch courage – we were pissed.
With all the hype it was interesting to see how we would live up to it, because, let's be blunt, if music be the food of love, then we were the indigestion. The opening song had my guitar feedback bleeding over the PA until Paul Bod leapt out of the crowd and turned the gain down on the amp.
Paul, Wayne and myself had practised everyday in my bedroom, Paul would use a book and cushion as a drumkit and I had learnt to play a sort of mutilated A and D chord which sounded very annoying to the rest of the band but it ended up as our first proper song called Systemisation.
<<Edi and Richie say it like it is>>
By mid-June the songs were being written and rehearsed thick and fast; Nein Werk, Video Party, We Want You, 1984. We had also done an interview for Welsh language fanzine Chmyll, and the name began appearing in the local newspapers. I still remember jumping for joy like a child at Christmas when I first saw our name in the small print of the paper.
The problem with a lot of bands is that they practice for months on end and then split up without actually playing live. In order to prevent this from being the outcome and to give the band something to work for and against their wishes, I put our name on the posters for The Scraps gig and organised other dates for July 23 at the Bee in Rhyl, the 26th at the Imp again and a 'pretend' gig which was billed as our nonexistent debut at the Friendship Club, which was also the polling station on the forthcoming General Election day.
I must have been off my head organising 4Q dates before we had played a note together.
The band, much to the joy of my neighbours started rehearsing at the Friendship Club (The Frienny) for a handsome sum of 20p each a night. We had even got a fan in the form of 16 year old Alan Matthews, but we thought Alan was a boring name thus re-christened him Cumi Pants after his semi-bleached trousers. He was very young and eager to impress and needed to be knocked down a peg or two by myself and Wayne (four years his senior) from time to time. Wayne remembers Cumi's inauguration into the Crud Crew Clan,
'We had arranged a ritual burning of Cumi's Howard Jones and China Crisis records as there was no way anyone was going to be in our gang with that stuff in his collection.'
Cumi's records were burnt at a specially prepared bonfire party in the top woods in Colwyn Bay, where beer and punk rock was provided.
'They also burnt all my posters. Those records would be worth a fortune now, although there was no China Crisis, I was never into them,' added Cumi.
Systemisation was the initial track of our live career, with that annoying A and D out of tune chords and the opening words of 'We are the people from the government, we've come to see just what you want.' They were excellent lyrics written by Edi, some of which I would pilfer a few years later and get Radio One airplay, Edi never got a songwriting credit, there again I never got any money from it anyway! Systemisation had a slow verse with a long pause before the chorus rattled out at breakneck speed – '1234…Fuck you I'm no fucking jerk, fuck you won't do no fucking work…'
The crowd themselves went beserk! Cumi Pants (who would become Sons of Selina's future drummer no less!) was stamped on, my sister Jane was smacked in the mouth and Gwyn was punched on the nose; on stage Paul Puke sent a cymbal and stand crashing across the floor and I slipped and banged my head on a monitor; all during that first chorus!
Edi on the vocals was a master with handling the crowd, like a slapstick Jello Biafra with a fake American accent to suit, and it was all over within twenty three minutes! Between the dismal eight songs we played Edi had those before him eating out of his clenched fists, from threatening to beat up the daughter of a local policeman to telling the singer of Anakonda he was a plastic punk and a fucking jerk.
The inevitable encore, to give it it's full title The Proliferation And Demise Of Music Since 1976 had us swap instruments, play one stab of a chord and walk off again, I had seen Anhrefn do something similar for encores so what the hell! We came off stage and Scraps singer David asked,
'Are you serious or was all that a joke?'
The Flaps had gone on before us, were a Bangor noise-trash-garage band who had formed a couple of months before 4Q, but lasted considerably longer. Featuring the natural peroxide blonde of Ann Matthews on flat vocals and flatter guitar, the quiet and unassuming Alan Holmes on bass and drummer Johnny Flaps Evans who sadly died age 33, after an illness in March 2001. They played a few early gigs with us in 1987 before branching more into the Welsh scene and changing their name to Y Fflaps and went on to play 154 gigs in seven countries. Recordiau Anhrefn (Anhrefn's own record label) gave them their first vinyl break in 1988 with a self-titled EP, then followed three albums, Amhersain (1988) and Malltod (1990), both on Liverpool's Probe Records, and 'Fflaps' (Central Slate Recs '92). They also caught the ear of John Peel who let them record two sessions for his show. Maeyc Hewitt was playing as a replacement drummer as Johnny left to continue college studies and the band became Ectogram.
The Scraps that night went on to play their spot-on tight thrash, unique in comparison with all the other thrash groups, it was a pity the landlord of Imperial didn't quite think the same, calling a halt to proceedings after an hour.