(by neil crud – pics by Gill Roberts and Chris Birchall)

I had just turned 13; my Dad worked as a photographer for the local paper (Evening Leader I think), so I tagged along on his +1 Press Pass. This was my first gig, having been introduced to the world of punk rock a year earlier at Denbigh High School.

The Mod Revival was well under way and The Jam were one of those bands who straddled both punk and mod. The music had the punk energy but the fashion was most definitely mod orientated. With half the ice rink being filled by punks and the other half being filled by last years punks who are now mods, there was always going to be friction, and it didn't take long to spill over. The whole evening was smattered with skirmishes as fist fights broke out. At one point Paul Weller stopped the show and called someone in the crowd a 'cunt' and offered him out.
I watched all this from the safety of the balcony, although I had to tell Huw Spew and Susan Forber (two of the school mods) I was in the thick of it, otherwise they'd be calling me a coward.

The Vapors were up first; so they were the first of the thousands of live bands I've seen. I of course remember them playing their one hit wonder Turning Japanese and its B-side, Hear Comes The Judge.
As for The Jam, I again have very little to recall; I don't even remember the songs! Just the fighting. One advantage of having a press pass, was meeting the bands! Bruce Foxton legged it onto the bus, but Rick Buckler was happy to autograph my book, as was Mr Weller (pic below) who posed for this pic. I did ask him what he thought of the show, but he just passed my book back and walked off.
Unfortunately this is the only pic my Dad has from that gig (albeit a brilliant one) as because of his work he had to surrender all the negatives to the newspaper, which of course will be long gone. He did print an ace full stage pic of the band, which has been swallowed up by a teenage bedroom wall many many years ago.
I do recall that The Jam went to a club in Chester after this show and a band was playing and invited Weller, Foxton and Buckler to play a couple of songs, which they did.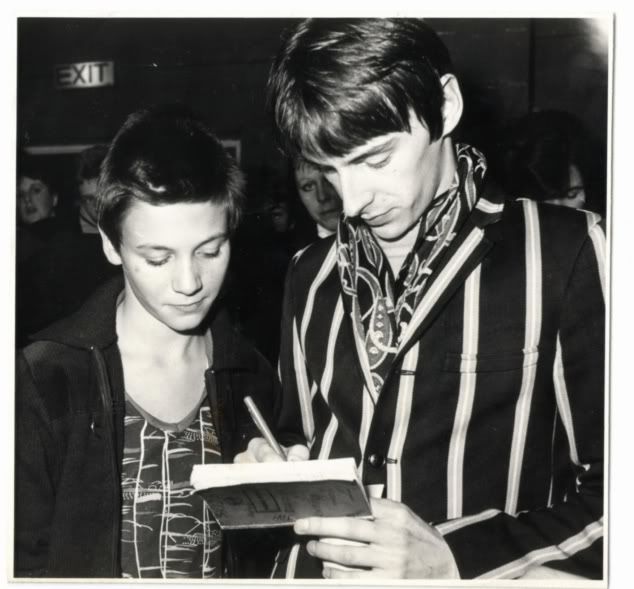 Writing on the Deeside Leisure Centre facebook page, Mitchell Gregory says, 'The Jam had arrived. It was the Setting Sons tour and Eton Rifles was shooting up the charts. The Vapours were "Turning Japanese" as they supported. The North Wales mod's were battling the Merseyside mods. Bottles were flying, fighting everywhere. But we were just young 14 year olds and didn't care. We were too young to get hurt. Right at the front against the barrier. Bruce Foxton, stopping the show and bollocking the crowd for crushing the fans at the front. Soaked in sweat and lovin' it all.'